From blah to glam!
Looking for some much needed inspiration before renovating a space in your home? Check out Vivi Dot blogger Molly Hooper's awesome kitchen renovation. Going from a boring and outdated space to a beautiful kitchen that she can enjoy for decades, this is a remodel you need to see.

Molly Hooper from Vivi Dot is a designer of jewelry and accessories with a natural knack for home decor. She started her blog as an homage to both her maternal and paternal grandmothers' creativity and sense of humor that was passed down to Molly herself. With unique designs, crafts and decor, there is no doubt that the genes she received were worth their weight in gold.
Outside of Molly's Etsy shop filled with her designs and crafts, she also runs a successful blog where she tracks her personal life, crafty creations and recent home remodel. With her husband as her partner, Molly ripped out her entire kitchen and remodeled the space from top to bottom. Going from drab to absolutely, positively fab, her kitchen is not only inspiring, but downright amazing.
Take a peek at the kitchen before Molly's remodel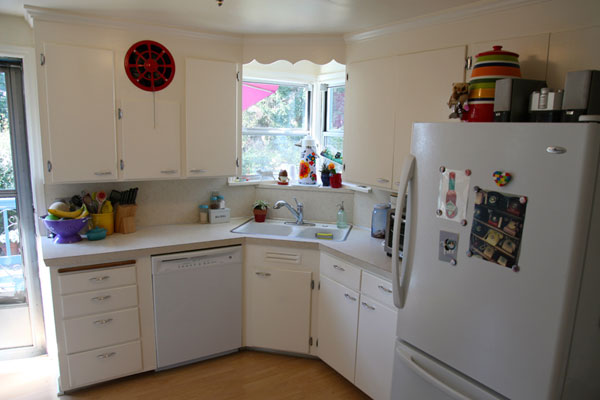 Molly and her husband made the decision to remodel their kitchen when they realized that although the space had a vintage charm to it, it just wasn't functional. A couple who enjoy entertaining and spending a lot of time in their kitchen, they wanted more room to dance and enjoy themselves. By taking down two walls and rearranging a few things, the couple was able to increase their storage and counter space dramatically. The new space is used for entertainment purposes, along with Molly's cute accents and vintage finds that make her decor personal, unique and charming, just as the original space did.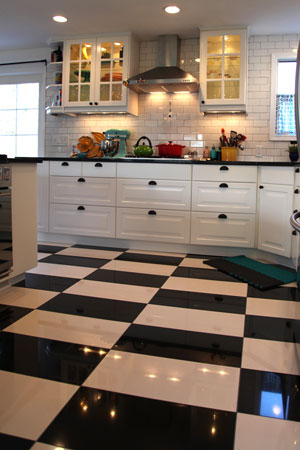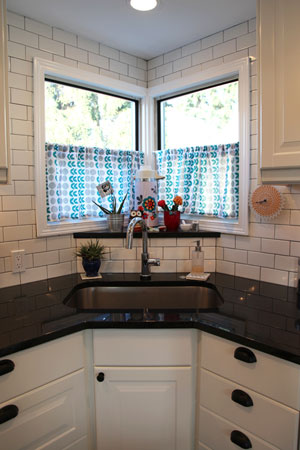 Everything that is permanent is black, white and stainless. The floor was inspired by a dance floor— dancing is a favorite pastime of the couple while cooking or hanging out in the kitchen. The shiny porcelain checkerboard floors give the kitchen a 1950s diner appeal that is timeless and absolutely stunning. Deciding to make their own personal touch, the couple chose a rectangular design rather than square, giving the kitchen a vintage yet modern look.
The black granite countertops go well with the shiny tile, and the subway tile backsplash with gray grout lightens up the space a bit. They chose white Ikea cabinets and darker hardware, but Molly and her husband were a bit more dramatic with their light fixtures. Using striking pieces and neutral looks, the couple was able to blend the entire room together with little effort.
Molly mentions that they chose a neutral backdrop as a means to easily refresh the look of the entire space by simply changing out the colorful accessories, such as her yellow, teal and red pieces that you can see now. This is also a great way to blend in and out seasonal trends as well.
Enjoy her kitchen after the remodel and be inspired to create your own unique masterpiece in your home.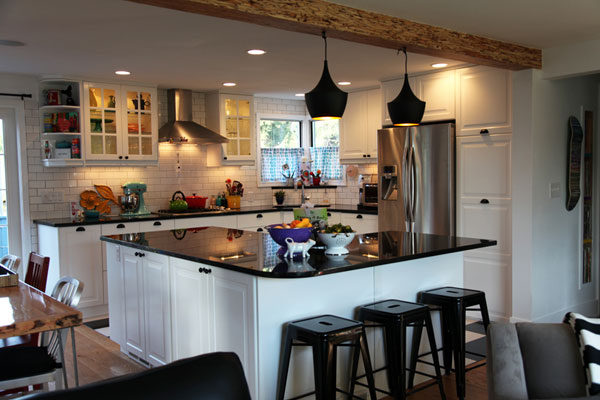 With much effort, great planning and a love for her home, Molly was able to turn her kitchen into a space that she and her husband can enjoy for years to come. Great for entertaining or simply enjoying a cup of hot tea, this kitchen is a space to be admired.
More in home decor & renovation
Yes, even lazy girls can become DIY divas
Hey blogger, show me your fall kitchen
Seasonal kitchen trends: Should you go for it?