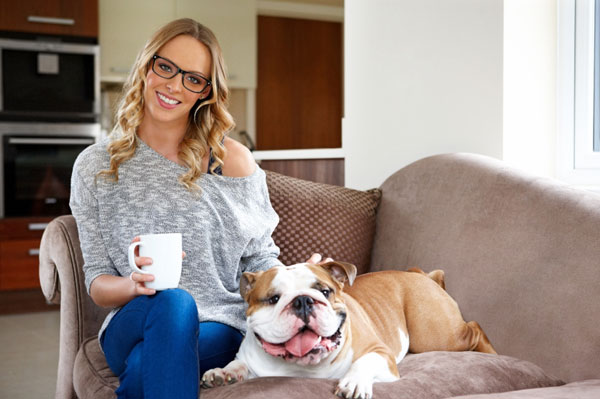 Wave goodbye
to fur and funk
Pets bring so much joy to our lives, but they also bring a lot of fur and funky smells. Embrace the joy and banish the filth with these ideas for removing pet nastiness from your home.
A hairy dilemma
The flowing fur of your pet is a beautiful thing when Fido gallops at the park or Fluffy cuddles on your lap. But pet fur can pose quite a problem when it gets lodged in the fibers of your couch or winds up in tonight's green bean casserole. Consider trying one of the following techniques to remove stubborn pet hair from the sanctuary of your home.
Use a rubber broom. Don't just sweep that delightful mixture of dirt and fur around your tile floors any longer. A rubber bristle broom like the Fur Be Gone Broom traps fur in its bristles with an electrostatic charge. You can use the broom on hard floors, carpeting and even furniture. Available at Doctors Foster & Smith, $20.
Opt for dryer sheets. Put your dryer sheets to good use by rubbing them across furniture and drapes to pick up free-range fur. Once again, the electrostatic force of the dryer sheet will trap the hair for easy removal (and we know you never remember to actually put them in the dryer anyway).
Find a specialty vacuum. Manufacturers are responding to the pet hair conundrum by developing vacuum cleaners that specialize in effectively removing fur from your home. These vacuums are less likely to clog or lose suction from fur than other models.
Prevent static cling. A product like Shed Guard, which you can spray on any surface, breaks the static cling of the fur to the surface and makes it easier to pick up with a vacuum, broom, lint roller or even your own hands.
Offensive odors
A lingering problem with pet odor is nothing to sniff at. If you don't take care of the problem quickly, you might turn into one of those eccentric pet owners who smell like a barnyard (not that we're trying to alarm you). Manage your pet's odors by employing one of the following techniques.
Use baking soda. Place a cup of baking soda on the carpet or in the car to help neutralize the odor overnight. Some pets are sensitive to air fresheners, but the baking soda won't leave any new scent behind as it freshens.
Sprinkle enzymes on your floor. Animal odors, like those caused by urine or feces, are full of protein. To wipe out the protein, you may need to use a stain-removal product that contains enzymes, like the Biokleen Bac-Out Stain & Odor Remover (Drugstore.com, $9). The enzymes eliminate the protein that cause odor.
Wash laundry with vinegar. Dogs and cats have a distinct smell, which often finds its way into sheets, comforters and clothing. Do your laundry with normal detergent and a 1/4 cup of apple cider vinegar to remove the pet odor from your linens.
Spritz the air. If you're pressed for time but your home smells like a barn, spray the air, carpet and upholstery with Febreze Fabric Refresher Free. It will neutralize the order without leaving behind a scent.
More from Organizing & Cleaning
Tips on keeping the laundry room clean and organized
Materials that aren't really "dry clean only"
Soap ingredients easily irritated skin should avoid