Ready For The Hunt
Whether you're hunting ducks or deer, one thing remains the same: All of that hunting gear can really get messy. Here are four easy ways to stay organized before, during and after hunting season.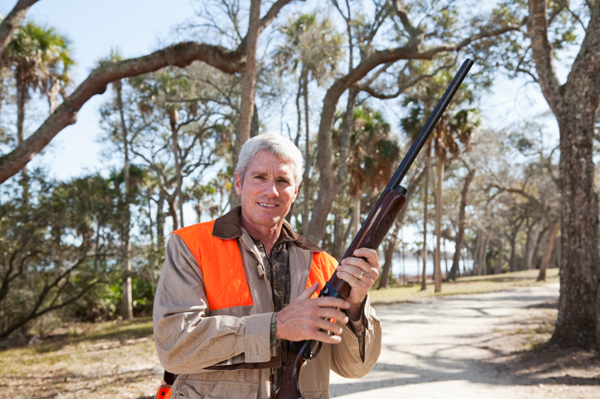 If the hunting gear hasn't been cleaned out in a while, make sure you do this with your husband prior to organizing his equipment. Since a lot of items can be duplicated, see if he really needs 10 safety harness straps or five different camouflage coats. If he's afraid to part with the items, grab a storage box and put excess items in the attic or basement. Just stick a note in your new organization method indicating where the excess items are in order to avoid buying more of what you already have.
Clear storage bins work great when cleaning out gear, because you can see what is going into the bin. Go big with this Hefty 66-quart bin so you have space for larger items (Target, $63).
Your next step in organizing hunting gear is to designate a space for the items. Choose a place in the garage or in the home that can store the equipment year-round. If there isn't any space in these two places, consider purchasing an outdoor shed specifically for the equipment. Since some items can rust in the winter or in severe climates, ensure that you locate the shed in a safe place or cover it with an additional tarp as an extra safety precaution. And remember, if there are any firearms or other life-threatening pieces of gear, guarantee that the space can be locked up properly with a deadbolt or Master Lock.
Some storage sheds have options for inside racks and other methods of organization. Find one with these options so you can buy the add-ons if your husband's hunting collection grows (which it probably will). We like this Suncast Sutton resin storage shed, which is built to resist any weather conditions (Home Depot, $599).
To functionally organize gear, choose a medium to stow away clothing, backpacks, radios, camping equipment and more. Whichever method you choose, just make sure to label what is inside for an easy method that both you and other members of the family can use.
Instead of just stowing hunting gear away so everything looks neat, make sure you have some type of order. Whether you organize it in the same manner as your husband's favorite hunting store, by the season in which the gear is for or color coordinated for your own piece of mind, having an order to the hunting gear will avoid unnecessary madness in the storage space.
More tips to organize gear efficiently
How to pack up your summer gear
Clever ways to organize outdoor gear
Simple ways to organize fall sports gear