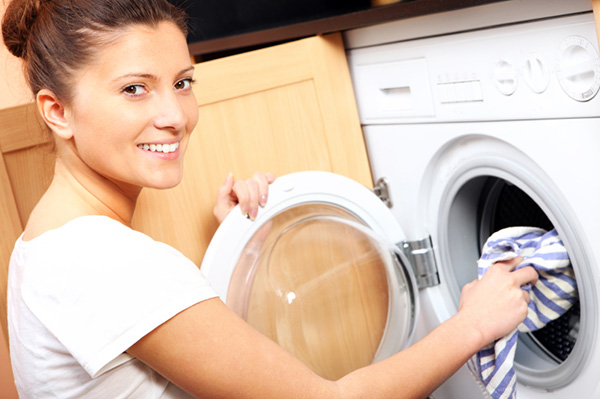 Make the most of your washing machine
Washing machines are getting more and more high-tech, but that doesn't mean you have to be a rocket scientist to run a load of laundry. Get to the bottom of all those knobs and dials.
Size up your load
It's likely that your washing machine can handle various load sizes and has knob settings for small, medium, large and even extra-large loads. Sort your laundry first to determine what load size you'll need to run.
Pick a temp, any temp
Choosing the right water temperature for your load will determine whether you end up with miniature versions of everything you threw in the wash. So, take care to read the labels on your clothing before deciding to just pick a temperature based on how you like your bathwater. Gentler fabrics need to be washed in cold water, while fabrics like cotton (and clothes that are very dirty) can be washed in warm or hot water.
Determine the cycle
Your washing machine also has cycle knobs with settings that range from gentle to heavy duty to power wash. Check the tags on your clothing before determining which setting to choose. Again, more durable fabrics can withstand — and dirtier fabrics may need — a power-wash or heavy-duty cycle, while delicate fabrics should be washed on the gentle cycle and perhaps even go inside a mesh laundry bag before washing.
Choose a detergent
To match wits with high-tech washing machines, today's laundry detergents are getter smarter as well. High-efficiency washing machines require liquid detergent. Choose one with stain-fighting components — such as Gain Original with Lift & Lock technology, which lifts dirt and stains away from clothing and locks in the scent of Gain. Pour the detergent into the basin as it is filling up with water so it can mix with the water.
Don't leave 'em high and (not) dry
Your dryer also has some knobs and dials you'll need to adjust before tossing in your wet clothes. You'll need to choose a heat setting for the cycle, and these settings can range from high heat (for cottons), to medium heat (for not-so-delicate fabrics), to low heat (for delicate fabrics) to a no-heat timed-dry cycle (for fabrics like wool, which will shrink if introduced to any heat during drying). Once again, refer to the labels on your clothing to determine the correct heat setting for the selected load.
Other dials on your dryer can include special clothing care settings like cotton, easy care (for wrinkle-free and permanent-press items), and a timed-dry setting with optional heat.
If you have specific questions regarding your washer and dryer, refer to the owner's manuals to ensure you get the maximum efficiency from your machines.
More on washing your clothes
5 Sexy washing machines we love
Organic laundry: What you need to know about washing your clothes the green way
Cleaning with vinegar