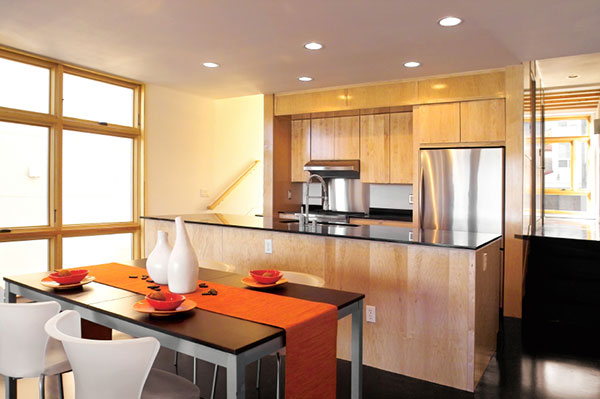 How to communicate with your contractor
I am so excited to be chatting with Aaron Patterson from Patterson Custom Builders today about remodeling your home! One of the hardest things for clients to do is to accurately convey their vision to their contractor. Here are six tips directly from contractor Aaron Patterson on how to explain what you want to your contractor.
1
Come prepared with a budget
"Kitchen remodels require some legwork," says Patterson. "If you don't have any idea in terms of the design of your kitchen, you'll need to, at minimum, have a sense of budget. Do some research on appliances to get a sense of what they cost. For instance, does your budget call for a $20,000 kitchen, which tends to be at the entry level end of the scale, or are you looking at a "Beverly Hills kitchen" of $50,000? This will help determine whether you should be looking at a $2,000 cooktop stove or a $20,000 one."
"Go online or leaf through magazines, and clip images that resemble what you want to accomplish," Patterson suggests. Bring these to your first meeting with your contractor so he/she can quickly visualize what you are envisioning.
"You can also make your own sketches for the contractor," Patterson says.
Especially if you have a particular layout or style in mind, if you can't find a photo that accurately portrays what you want, do a quick sketch to show your contractor. And don't worry — it doesn't have to be perfect to convey your vision.
Truly think about what you want your room or space to accomplish for you, especially for rooms like your kitchen that will most likely be used a lot.
Patterson suggests for you to "think about what your kitchen means to you. Is it a place where the family congregates throughout the day, or are you a busy bachelorette who uses the refrigerator as a place to store a few bottles of water and takeout, and has never turned on the stove? The function of your kitchen is central when it comes to your remodel."
"Where do you want your recycling and garbage placed, and do you need these areas to be substantial or compact?" Patterson asks. "I'm seeing large families request bigger refrigeration units and sometimes two dishwashers, while singles and couples are desiring lots of clean counter space for drinks and appetizers, and plenty of room to sit and mingle."
6
It's all in the details
"Be detailed," Patterson advises. "It's better to over-communicate than under-communicate. Pick a contractor who regularly works in the design style that matches your own, so your project will move faster and have authenticity. And notice whether or not your contractor listens to and seems interested in what you are saying, and takes it seriously. It also helps to select someone with a passion for building and design, not just putting up structures to fund their next six-pack of beer."
More house fun
Learn how LG appliances can help make your house a home by visiting Life's Good House.
More on renovation and remodeling
Top 20 Pinterest projects to update your home
Tricks of the trade: Tile experts share installation tricks
Budget breakdown: What small updates actually cost