One of the best things about staying in a hotel or at a resort is the luxury of indulging in a hot sauna, steam room, or steam shower. Now, thanks to several big-box stores who are adding these items to their everyday lines, it's possible to enjoy such extravagances in your very own home.
(page 2 of 2)
Steam rooms
Designed for people to sit in (just like a sauna), steam rooms are enclosed spaces where steam creates a super humid environment (as opposed to the hot, dry temperatures in a sauna). Many of these rooms can be found at health resorts and gyms largely because of their purported health benefits. These benefits include: increased circulation, cognition, skin elasticity, and relaxation.
Much cooler than saunas (steam rooms will normally only reach temperatures of 100 degrees Fahrenheit), they may, however, be more difficult to maintain. Because of the high humidity, they're more prone to things like mold and mildew. You'll need to use lots of elbow grease to keep them clean.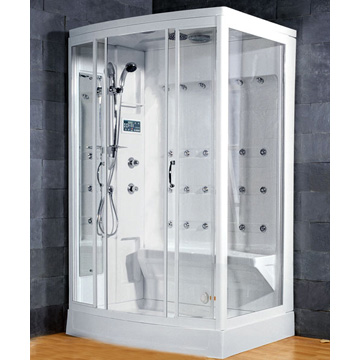 Ameristeam steam shower enclosure, $3,200 (steamshower.org)
Steam shower
More high maintenance in upkeep than a sauna or a steam room, steam showers are nonetheless becoming more and more popular, especially among the luxury set. A generator within the stall's walls is responsible for dispersing a hot, steamy vapor around a person's body. Like the benefits of a steam room or sauna, steam showers are thought to increase health by improving circulation. The steam pumped into these rooms may also help a person cope with certain respiratory ailments (including allergies).
The advantage of a steam shower is how functional it is: it's smaller than a steam room and can mimic the functions of a shower (many people actually replace their old showers with these). There's only one caveat: water vapor could seep outside the stall's walls causing water damage.
One final note
It's always important to speak with an expert about getting one of these units installed in your home. He or she will be able to tell you which is best for your space based on your square footage and ventilation systems.
If you're considering any of these rooms, a visit to your doctor also is a must. Saunas, steam rooms, and steam showers can have adverse affects on people with heart problems or certain respiratory ailments and could, in the end, do more harm than good.