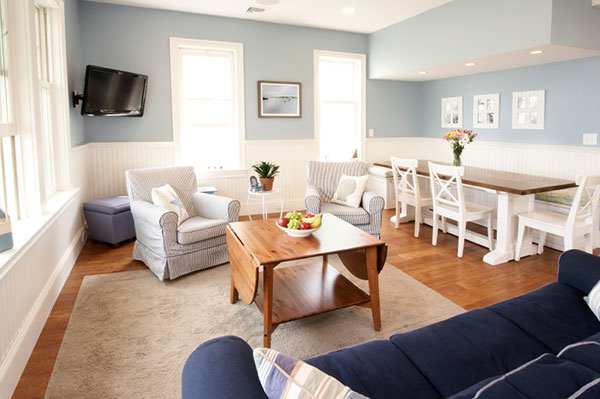 10 ways to brighten up your home for summer
It's easy to update your wardrobe for summer (slip into a sundress and sandals!), but how can you bring the free and easy spirit of summer into your home? We asked Laura Gaskill, founder and editor of the DIY design blog Lolalina, to share her favorite ways to "summerize" your home.
The change in seasons is the perfect time to rid your home of any unnecessary clutter. "Paring down and letting go of excess stuff is a great way to bring a more relaxed feeling to your home," says Gaskill. Start by donating old magazines, shredding receipts and organizing the junk drawer.
2
Summer inspiration board
Gaskill says an easy way to add a splash of summer is an inspiration board. She suggests hanging a bulletin board and tacking up summer snapshots, postcards and pictures that make you smile. Grab a stack of your favorite magazines and tear out any pages that speak to you. Once you have a nice stack, snip out the images you love most and add them to your board.
Designate a table, shelf or window ledge as your nature spot, and display collections of seashells, driftwood, beach glass and pretty stones in bowls or baskets. Add or change the display any time you like, and let your nature table change with the seasons.
Nothing says summer quite like a hammock, but there's no rule that says it has to be in a tree! Gaskill suggests stringing one up in your living room! Hanging beds and indoor swings are another way to bring summer fun into your home.
Give your home a relaxed, easygoing vibe by adding natural materials and textured items like woven baskets, jute or sea grass rugs. Update furniture with basic cotton duck or linen slipcovers for a fresh summer look — and toss them in the laundry for easy cleanup.
Don't let your coat hooks get lonely, even though cold weather clothes are all packed away. Use the hooks in your entryway and hang colorful sarongs, woven baskets and straw hats for a pretty and practical display.
Swap out art for prints or photography featuring summery subject matter like beach scenes, carousels and wildflowers. Use your own photos or head to Etsy for a huge selection of summer-inspired art and photography.
On hot days, Gaskill says there's nothing better than filling a big dispenser with ice water and placing it on a bar cart or console table in the living room. Add water "toppings" like lemon and cucumber slices and mint.
You may have created your ultimate summer bucket list, but have you ever thought to put it on display? Write out all of the things you want to do and see this summer on a big chalkboard (or chalkboard wall) and then have fun checking things off your list. Plus, you're probably more likely to get things done when you're looking at your list every day!
10
Display a sand collection
If your summer plans include the beach, bring a corked bottle along on each excursion and scoop up a sand sample. Add a label to remember the beach where the sand was collected. Line up all your bottles of sand for a unique display.
Quick Tip:
The next time you're at the pet store, pick up a bag of aquarium pebbles. Pour some into a white dish and nestle in white tea lights or pillar candles for an easy summer display.