Ashley from Domestic Imperfection and her husband, Adam, live in Texas and have two boys, ages 3 and 1. In 2008 they bought a house that needed a little TLC and have been documenting the process of remodeling for the last two and a half years on their beloved blog. And by "remodeling," they don't mean hiring people to do all the dirty work — they do all the work themselves, on an extremely small budget, all the while wrangling toddlers.
Ashley isn't scared by having a budget. In fact, she believes that having a budget is a good thing... a great thing, even. The smaller the budget, the higher the creativity, and with higher creativity the space becomes more unique, more personal.
Ashley's kitchen
Ashley's favorite room remodel so far is the kitchen. It started out as your run-of-the-mill builders' grade kitchen with stock cabinets, laminate counters, cheap appliances and a sink and faucet of questionable integrity. After being abused by renters for five years, Ashley and her husband bought the house and decided that the kitchen desperately need to go. Well, not go, because "going" is expensive, but change. And change it did!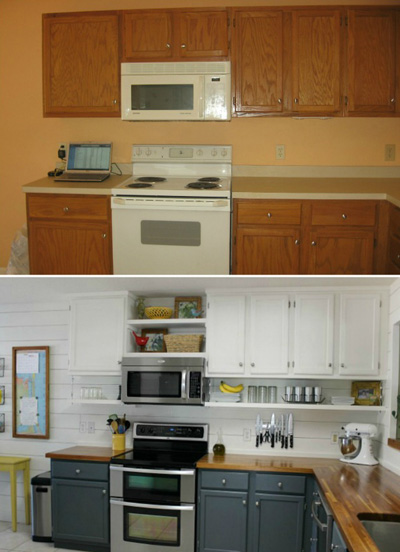 For $3,700 (including all new stainless steel appliances), Ashley and her husband gave the kitchen an entirely new look. They painted the stock cabinets and raised the higher cabinets all the way to the ceiling, adding a shelf underneath for everyday items. The higher cabinets were painted white to make everything light and bright, and the lower cabinets were painted a dark, stormy blue to add some weight. A bonus is that the dark lower cabinets hide dirt left by grimy toddler hands! The butcher block countertops were installed with the help of family, and Ashley created a unique penny countertop for the bar area. The previously pink walls were planked and painted white to give the room some character, texture and cottage charm.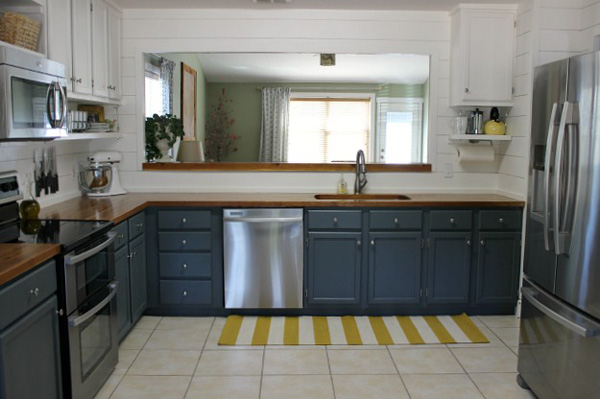 Focal point: The penny countertop!
When Ashley and her husband installed butcher block countertops, they purposely left their bar area undone. Looking to blog followers for suggestions, she was inspired by one reader to cover her entire countertop in pennies and epoxy! Eight months and $50 worth of shined pennies later, Ashley was left with one pretty penny of a countertop.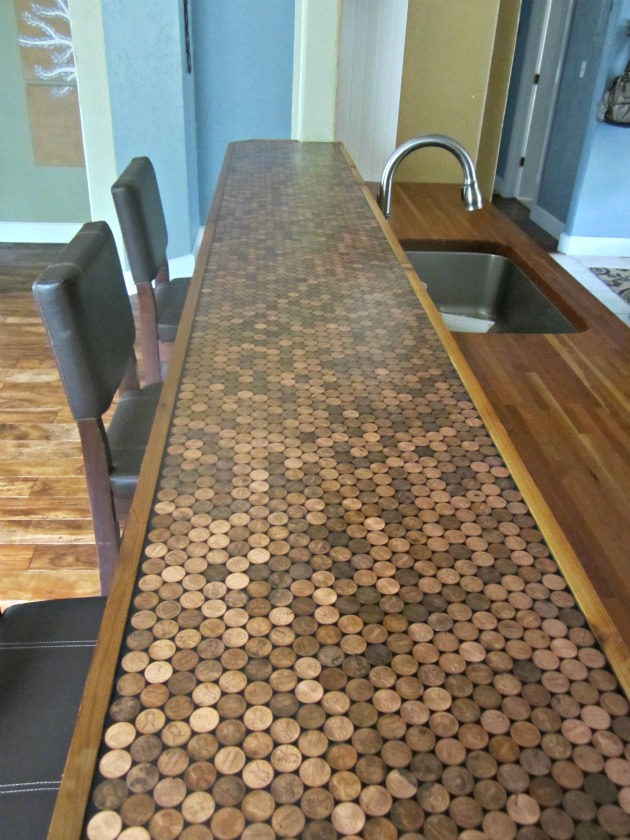 Ashley's dining room
Ashley's dining room has had many transformations over the past few years. Beginning with a plain, yellow-painted nook with potential, Ashley added a plank wall (which you also see in the kitchen). From here, she painted the planks white and added a gorgeous farm table and cutesy chevron curtains. All of these amazing additions and DIY projects result in the dining room you want to dine in!
Before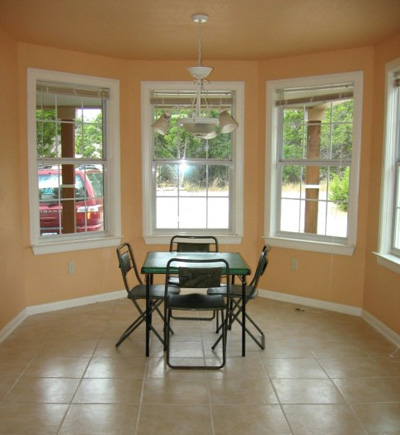 After
Focal point: The pantry!
Take a look at Ashley's neat and organized pantry. The wall stenciling gives this pantry a unique and sophisticated look.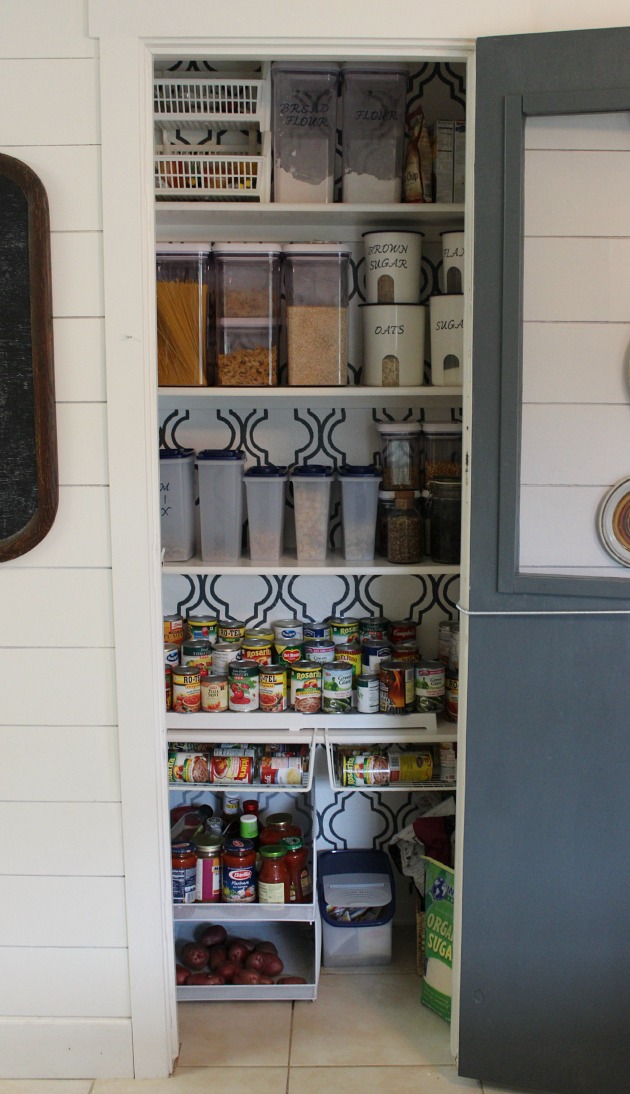 And the awesome DIY screen door for the pantry gives Ashley's kitchen a loving country vibe.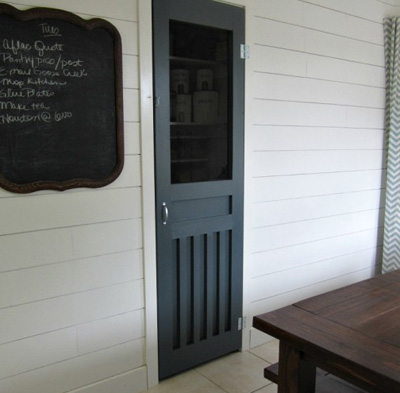 Another great example of a how a budget is a blessing is seen in Ashley's laundry room. This room was taken from the before to the after for a mere $130.
The laundry room
When Ashley took to her laundry room, the cabinets were painted white, and she and her husband cut out the center to add chicken wire instead. The washer and dryer weren't exactly a pleasure to look at, so Adam built a counter (out of leftover wood flooring and baseboards from their living room remodel) and Ashley sewed curtains. Not only are the ugly washer and dryer hidden, but they created a work space where the laundry can be sorted and folded.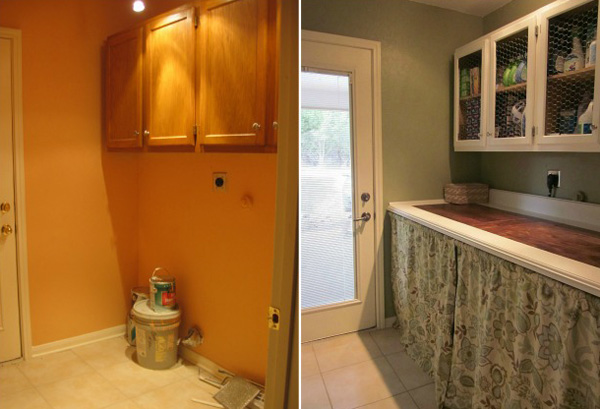 The boys' room
After Ashley spilled motor oil on her boys' bedroom carpet, she and her husband immediately ripped it off to keep the room free from hazard. In doing so, Ashley realized that she liked the thought of a sans-carpet room for her two young children. Inspired by a few other bloggers, she and her husband decided to go with the inexpensive route of paper bags. That's right: paper bag flooring! For a total cost of $80, Ashley successfully glued and sealed paper bags to her sons' floor for a beautiful and unique finish.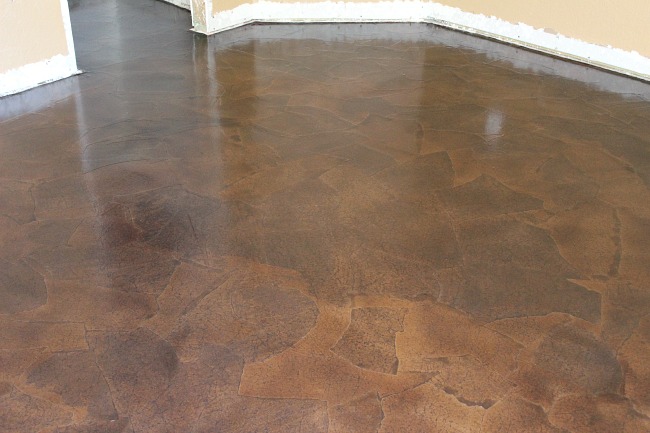 Focal point: DIY stenciled table
As you can see, Ashley is an awesome home-renovating DIY diva. But she also rocks at completing projects! Take this stenciled table, for instance. Using wood stain and a paisley stencil, Ashley created this beautiful table for her home.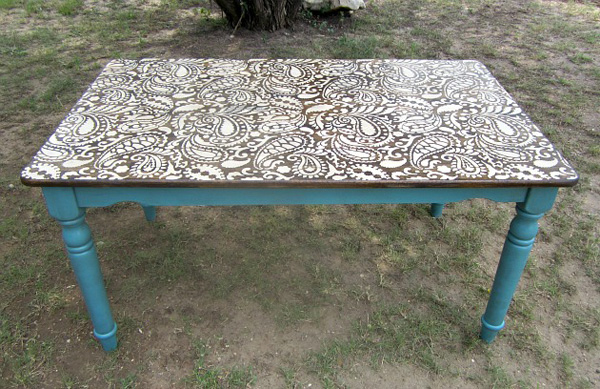 Thank you, Ashley, for the wonderful peek inside your home. We can't wait to see more of your awesome projects in the future!
More
Want to see more of Ashley's beautiful, inexpensive remodeled home? Check out her blog at Domestic Imperfection and take a closer look at her home and many unique, money-saving ideas for your own renovations.
Find more home inspiration
Our favorite home inspiration blogs
Hey blogger, show me your kitchen!
Creative home decor ideas we love