With the help of his wife, Peyton, landscape pro Chris Lambton regularly transforms boring backyards into amazing outdoor spaces on HGTV's Going Yard. The couple loves to get their hands dirty together by digging around in the garden.
Like most gardening enthusiasts, the Lambtons have their favorite tools. Chris, with a background in landscaping, likes having a mattock pick on hand for stonework, a pole chainsaw for trimming tall trees and a tape measure for space planning. Peyton, who puts the decorative touches on outdoor spaces, prefers simple tools like work gloves and a hand shovel for planting. Rather than messing with gadgets for weeding, Peyton prefers using her hands, saying there's "nothing better than ripping them out of the ground."
We asked the husband and wife team to share their picks for must-have gardening gear. See which essential gardening gear should be in your toolshed.
Essential gardening gear
Tools every gardener should have
Shovel
Leaf rake
Hose
Broom
Sunscreen
Best tools for weeding
Flat shovel
Metal rake
5-gallon bucket for weeds
For your vegetable garden
Tools for big yards
48" Bobcat mower
Backpack blower
Chainsaw
Our picks for gardening tools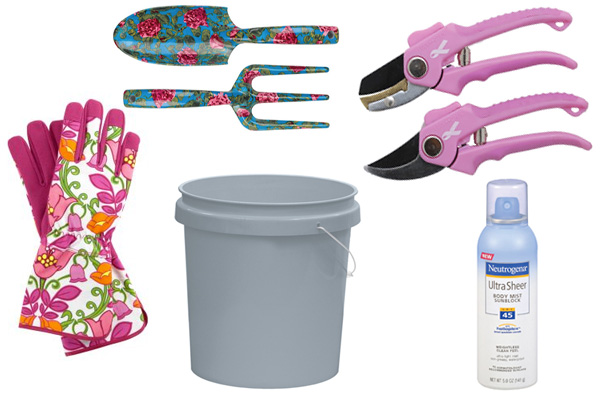 Vera Bradley gardening gloves, $28; Roses garden tool set, $33; Pink garden pruning set, $12;
5-gallon plastic bucket, $3; Neutrogena Ultra Sheer sunblock, $8.
More gardening tips
Cool backyard DIY projects from around the web
Digging up the hottest gardening trends
Going Yard's Chris and Peyton Lambton on outdoor decor
Photo credit: HGTV