Silver Sips
What mom doesn't love to kick back and relax at the end of a busy day?
These super-stylish coffee- and tea-service gifts from Alessi are perfect
for the casual sipper or the caffeine aficionado.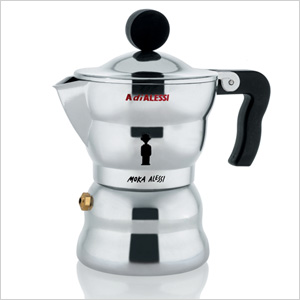 Moka Alessi Espresso Coffee Maker
The new 1-cup size completes the Moka Alessi line — a successful remake of the first espresso coffeemaker designed by Alessandro Mendini. Its small dimensions readily evoke the affection long felt for this example of Mendini's work. Perfect for rushed mornings or quiet afternoon escapes, this single-cup espresso coffeemaker helps Mom to get some "me time."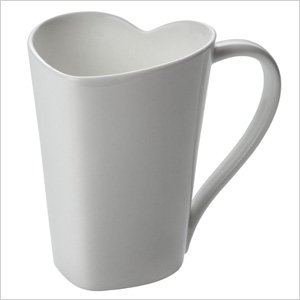 To Mug
The "To" mug by Miriam Mirri has enriched the tradition of using a heart as a design component. In the packaging, the designer has provided a ribbon on which to write a dedication, making the mug suitable as a gift for special occasions. A sweet cup of coffee or tea, served in a mug that reminds Mom just how special she is.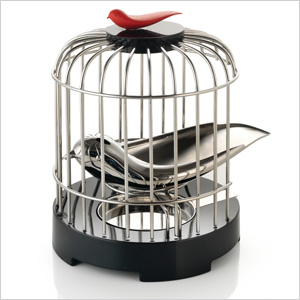 Tea Matter
This melodic tea strainer is part of a new project that contains a number of different objects. The designer, Alan Chan, has proposed an attractive product whose elements define the landscape and the cultural atmosphere in which it is placed. An instant mood booster, the Tea Matter will elevate Mom's afternoon tea experience.
The bird-shaped strainer rests inside the cage, and when it is taken out, the cage sings like a bird until the strainer is replaced.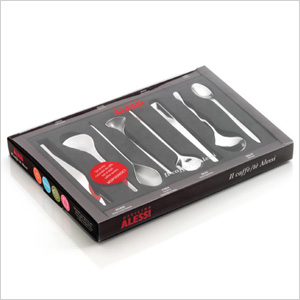 Il caffè/tè Alessi
This set of eight coffee spoons is a great opportunity to introduce Mom to a few well-known contemporary architects — David Chipperfield, Denton Corker Marshall, Doriana e Massimiliano Fuksas, Hani Rashid, Jean Nouvel, Toyo Ito, Wiel Arets and William Alsop.
More gift ideas for Mom
15 Organic Mother's Day gifts
20 Edible Mother's Day gifts
All our Mother's Day gift ideas