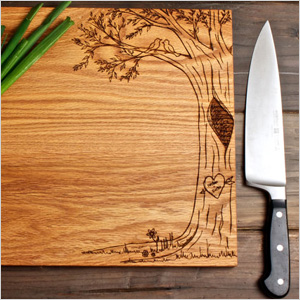 Every kitchen needs a cutting board or two, so why not customize one with the kids' initials for the mom in your family? Whether your mom is a top chef or cooks just once in a while, this cutting board by WoodInk will be a thoughtful gift that the whole family will use.
SheKnows: What makes this piece perfect for Mother's Day?
Ryan and Ashleigh Brimhall: With the option for personalization, our handmade cutting board is both a thoughtful and sweet Mother's Day gift. It's also guaranteed to be the one thing your mom doesn't already have in her kitchen. The price tag is affordable, but the quality and the beauty of each piece is priceless.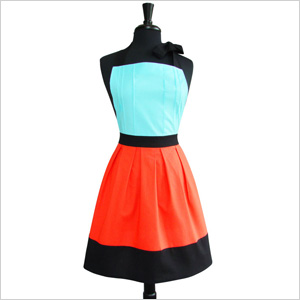 An apron is a kitchen must-have, but not one fit for an old lady! Treat Mom to this chic apron by Simply Whimsical Gifts! It will make her feel like the star of the kitchen with its chic colorblocking and fashionable cut.
SheKnows: What makes this piece perfect for Mother's Day?
Kathy Williams: The colorblock apron is the perfect gift for today's modern mommy! This fabulous apron is vibrant in color and detailed with pintucks and pleats. It also comes gift wrapped!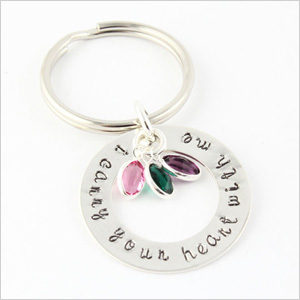 Mom's keys will have never looked better! This sterling silver birthstone keychain from The Silver Diva will add interest to a boring set of keys, and with the option to personalize it, will be a cherished gift for years to come.
SheKnows: What makes this piece perfect for Mother's Day?
Carrissa Barbee: This piece has a saying that mothers all over the world understand! You can have it hand stamped with names, birthdates or another saying and add the birthstones to make it even more special. I started The Silver Diva to wear my children's names close to my heart at all times, and this necklace is the perfect embodiment of that sentiment.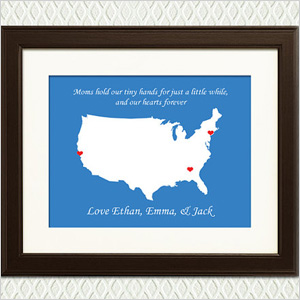 You can't go wrong with artwork, so give mom a personalized gift like the heart map print from My Place in the World. With a red heart pinpointing each child's location on a map, the sweet sentiment will warm Mom's heart every time she glances up at the wall.
SheKnows: What makes this piece perfect for Mother's Day?
Sarah Jones & Sharmeen Omar: Our product is perfect as a Mother's Day gift because each heart represents the place a mother's children or grandchildren have traveled and lived through the country and the world. Prints are available for all American states, Canadian provinces, all countries and a world map.
5
Baby tags fingerprint necklace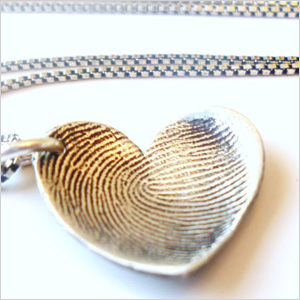 New moms will delight in receiving this fingerprint necklace from Baby Tags Jewelry, which has an actual fingerprint of your baby stamped in the metal. It doesn't get more unique than this!
SheKnows: What makes this piece perfect for Mother's Day?
Desiree Stevens: Each piece captures a little moment in time. Whether you child is two months or 20, we can create a memento that captures exactly what their print looked like at that time. It is the perfect keepsake gift that will melt the heart of any mom.
More Mother's Day
Mother's Day: Wellness gifts for women
5 Spas to pamper Mom
How to throw a Mother's Day tea party