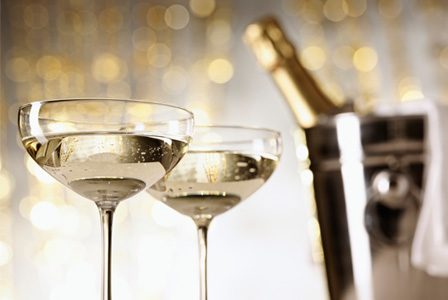 No New Year's Eve is complete without that perfect bottle of bubbly. The pop of the cork, the unique taste and the general classiness of everyone's favorite New Year's beverage make it a must-have — but which bottle is right for you?
Bubbly basics
Whether you're into Champagne that's sweet, a splurge or even pink, we have the bottle that will make your New Year's festivities a hit.
First, where does Champagne come from? To be truly called Champagne, it must come from the Champagne region of France — otherwise it's just a sparkling wine. More than 300 growing areas (called crus) produce all of the world's Champagne, which is either vintage or non-vintage (NV). Vintage Champagne is made from the harvest of a particular year. Exclusive and more expensive, vintage Champagne is only made when the harvest's quality allows for it. The other type of Champagne, non-vintage, makes up 80 percent of all Champagne bottles and is when winemakers blend different harvests from several areas.
Depending on the sugar content, the taste of Champagne can vary widely. There are several varieties to choose from (from driest to sweetest):
Extra Brut is the exact opposite of sweet and is very, very dry. (6 grams or less of residual sugar per liter)
Brut refers to Champagnes that are dry, and this is the type that's the most popular and easiest to pair with foods. (12 grams or less of residual sugar per liter)
Extra dry makes a great aperitif and is less dry than Brut. (12-17 grams of residual sugar per liter)
Sec contains slightly more sugar. (17-32 grams of residual sugar per liter)
Demi-sec is sweet and pairs well with fruit and dessert. (32-50 grams of residual sugar per liter)
Doux is the sweetest variety and is not widely available in the U.S. (50 grams or more of residual sugar per liter)
Diet-friendly
Holiday weight gain is not inevitable if you make smart choices. Get your New Year's drink on in a diet-friendly way with Laurent Perrier's Ultra Brut. At only 65 calories a glass, you can have two! ($40)
Budget option
Short on cash? In a setting where a luxury bottle won't be appreciated? No problem! Budget Champagne doesn't mean bad Champagne. There are a bunch of wallet-friendly options to choose from including the crisp Möet & Chandon Impérial Champagne. ($37)
The splurge
If you really have something to celebrate this year, maybe a Champagne splurge is in order. For those looking to drop a little extra cash on a worthy bottle, the 2003 Moet et Chandon Cuvee Dom Perignon gets our pick. This gorgeous bottle oozes luxury and is quite the way to ring in 2013. ($239)
Pretty in pink
If rose Champagne is more your style, opt for a bottle of Veuve Clicquot Brut Rose. With fragrant notes of raspberry, cherry and strawberry, this is one Champagne that deserves to be at your New Year's party! ($60)
Bonus
Not imbibing this New Year's? Spray on your Champagne instead — well the Champagne Brut from Demeter Fragrance, that is. ($20 for 1-ounce cologne).
Happy New Year to you and yours!
More New Year's
Sparkly party dresses for New Year's Eve
What Not To Wear's Clinton Kelly dishes on holiday style
New Year's Eve party tips from Sabrina Soto