A letter to Santa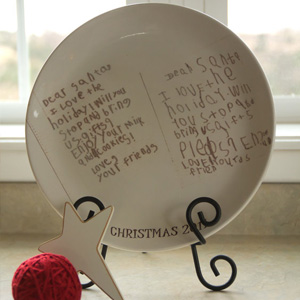 Preserve your child's first letter to Santa on a plate they can use every year thereafter. This custom plate will be a sweet memory each year you pull it out, and your child will likely enjoy looking at it for years to come. These adorable plates from Prairie Hill Pottery can be made in various sizes. No kids? Consider writing a sweet note to your special someone and have it preserved on a plate forever or even add your favorite cookie recipe and give it as a gift.
Don't forget Rudolph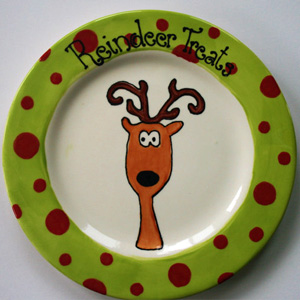 The reindeer are hungry, too, and they probably can't share Santa's cookies. Give the reindeer their own special plate from Etsy shop R Schmitz complete with carrot sticks, apple slices and other treats. Encourage your children to leave healthy snacks that will keep the reindeer energized as they fly all over the world. They have to do the most work after all. Don't forget to leave out a bowl of water, too.
Face plate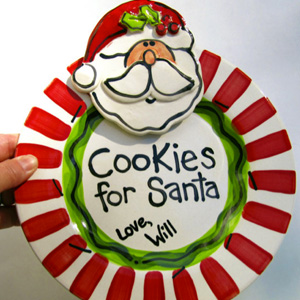 Santa is sure to know the cookies are for him if you put them on a plate with his picture on it. This cute plate from Etsy shop Artzfolk is the perfect size for Santa's treats, and it will make an equally cute decoration to display on a stand throughout the season. It can be personalized with your children's names (or yours) to make it extra special.
Plate and mug set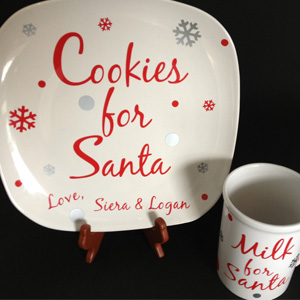 Everyone knows that you need milk to wash down your cookies or perhaps a warm mug of coffee to keep Santa awake! This personalized set from Etsy shop SieraDiBella Designs comes complete with a plate and mug so that Santa has everything he needs. Whatever you do, don't forget that you should eat and drink at least some of the cookies and perhaps even leave a little thank you note from Santa.
Note
Not all Etsy shops mentioned are able to guarantee delivery by Christmas.
More Etsy goodness
Etsy roundup: Aprons
Etsy roundup: Holiday clutches
Etsy roundup: Holiday wreaths