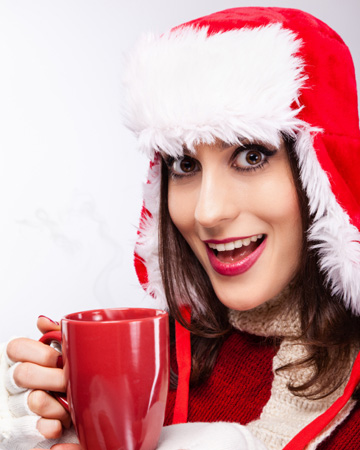 Almost good enough to drink
Indulging in all the festive Christmas drink offerings is a given this time of year — seasonal cocktails, flavored coffee, the list goes on! So when you imbibe, make sure you look good while doing so with our Christmas drink-inspired beauty finds!
Pomegranate Champagne
& Juice Beauty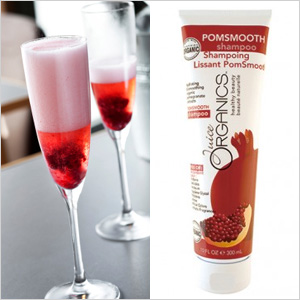 Although the inspiration for Juice Beauty's PomSmooth Shampoo probably wasn't this hard-to-resist glass of pomegranate Champagne, the festive drink might just inspire you to treat your hair to the line's luxurious suds. The hydrating duo is formulated with a blend of nourishing organic pomegranate and aloe juices, smoothing organic shea and more to keep your tresses beautiful all season long. (juicebeauty.com, $10 each)
Starbucks Peppermint
Mocha & LaLicious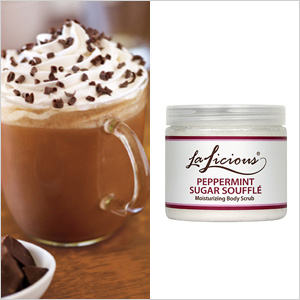 The refreshing scent of peppermint is a winter must-have — both in your Starbucks Peppermint Mocha and in the shower (not at the same time though, please!). Invigorate your next scrub session with our favorite winter body scrub, Peppermint Sugar Souffle by Lalicious. The granules will buff away dry, dull winter skin leaving you glowing for all your holiday parties. No greasy residue here. Oh, and it smells divine! (lalicious.com, $34)
Nespresso
Coconut pods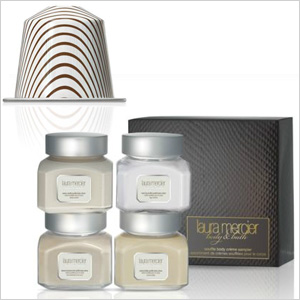 Any coffee aficionado knows Nespresso makes the best coffee around, so snag a few sleeves of their Holiday Variation Grand Crus in Coconut and be wowed. After you've finished your morning cup (or three), keep the coconut love going by indulging your skin with Laura Mercier's Souffle Body Creme Sampler, which includes the heavenly Almond Coconut Milk body butter. Your skin will be velvety smooth, and the scent is to die for. (lauramercier.com, $60)
Cranberry punch
& Hourglass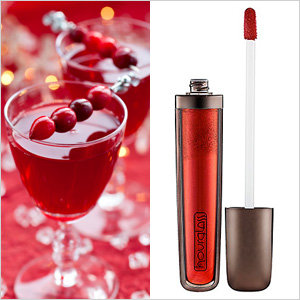 There is no drink color more festive than a bright, luscious red that sparkles in a crystal glass. Give your lips the same holiday treatment with Hourglass Extra Sheen High Shine Lip Gloss — a luxurious gloss full of rich pigment and shine that will stay put. Moisturizing and made without nasty chemicals, this gloss is the perfect way to complement any holiday look. Our fave shade? Siren, a metallic red that will make your pout pop! (sephora.com, $28)
White Russian
& Nails inc.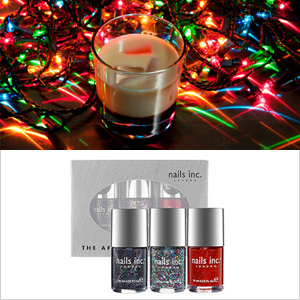 Sipping a creamy White Russian while marveling over your gorgeously lit Christmas tree might inspire you to deck out your nails just like your tree. Pick up The After Party limited-edition set from Nails inc. The After Party limited edition set gets your nails involved in all the holiday fun. Choose from Disco Lane (black holographic glitter), Soho Street (rainbow glitter chunky) or Covent Garden Market (red full coverage glitter) and party the night away. (sephora.com, $25)
Kusmi Tchai
& You Smell Soap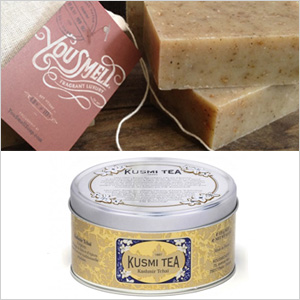 No one in their right mind would pass up a mug of spicy Kusmi Kashmir Tchai tea on a cold winter day — and we can say the same about You Smell Soap's Oatmeal Spice Bar. Hop in the shower, work up a lather and see why this is one brand you need to keep your eye on. The soap's sweetly spiced aroma is reminiscent of heavenly chai tea and is proof that the best part of Christmas comes in a small box! (yousmellsoap.com, $7)
Red wine
& Bite Beauty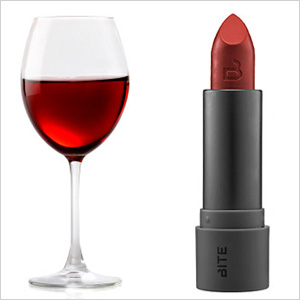 A glass of red wine is a mealtime staple at Christmas, and that's a good thing. Our beloved wine contains the antioxidant resveratrol and so does Bite Beauty's Luminous Creme Lipstick. Made without all of the bad stuff like phthalates and parabens, Bite Beauty's standout lip color fights free radicals with powerful long-term antiaging benefits. Each lipstick is packed with the amount of resveratrol found in five glasses of red wine! We'll take one in every color, please! (sephora.com, $24)
Eggnog
& philosophy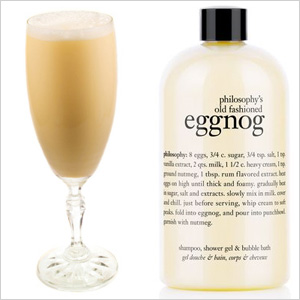 When it comes to yummy Christmas drinks, eggnog should certainly make your short list, so why not take a figurative cup of the creamy dessert-like drink to the bath — with Philosophy's Old Fashioned Eggnog 3-in-1 formula. A shampoo, shower gel and bubble bath all in one, this bath treat is perfect for all your holiday season showers and baths! (philosophy.com, $16)
More holiday beauty
Stocking stuffers for the hair and makeup addict
Holiday gift ideas for the nail fanatic
Gift guide: Holiday beauty product roundup