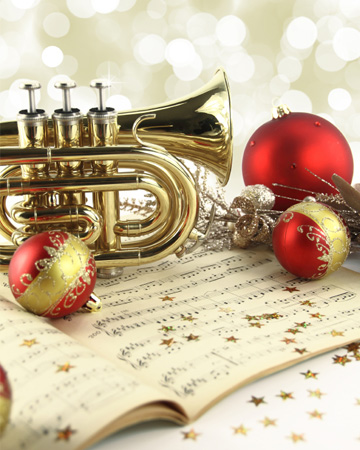 Sing your way into the spirit
of the season
Whether it's Christmas or Hanukkah, the winter holidays are embodied by our favorite holiday tunes. Impress your guests with unique styling, using these classic favorites to inspire your holiday decor this season.
The key to beautiful holiday decorating themes is making sure they're elegant, never gaudy. Decorations based on your favorite music can get trashy quickly if you aren't careful. Try these ideas based on a handful of our favorite carols or try your own!
Rudolph the Red-Nosed Reindeer
Let Rudolph's shiny nose guide the way this Christmas season by using him as the inspiration for this kid-friendly idea.
Rockin' Around the Christmas Tree
Put a little edge on your Christmas festivities with a theme inspired by the beloved Brenda Lee Classic.
Dreidel, Dreidel, Dreidel
Toys are a big part of any holiday celebration. This year, try theming your home with an assortment of classic Hanukkah toys.
White Christmas
You'll go to enough malls this season to get your fill of the traditional greens and reds that accompany this holiday. This season, celebrate the wonder that is winter with a sleek color scheme of white and silver.
I'll Be Home for Christmas
Your home should be a haven during the holidays, especially if you have kids in from college or soldiers home from overseas for their first Christmas. This decor idea is all about keeping it familiar and cozy.
More holiday decorating ideas
DIY 12 Days of Christmas wreath
Holiday decorating ideas for small spaces
Homemade Christmas ornament ideas