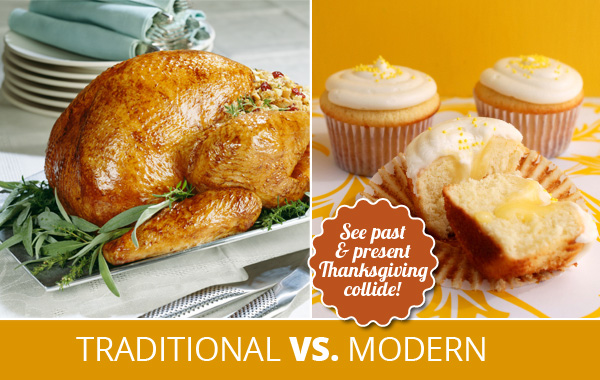 For most of us Thanksgiving ranks high on the list of favorite holidays. From the warm, fuzzy feelings of expressing gratitude to stuffing your face 'till your buttons burst, there are plenty of reasons to love Turkey Day, and we're on a mission to find the best way to celebrate it. Whether you prefer sticking to tried-and-true nostalgic family recipes or seek a more modern approach where you shun the traditional pumpkin pie (oh, the shame!), we're breaking down the basics of a classic-traditional versus a modern Thanksgiving.

Comfort often lies in tradition — the tradition of getting together with family and friends and feasting on quintessential Thanksgiving dishes. This traditional Thanksgiving feast features a satisfying spread of comfort foods that we look forward to all year long. Try one of these classic Thanksgiving recipes.

Let's get real. Today's modern families crave a Thanksgiving holiday that's relaxed, stress-free and fun. Avoid the dreaded pre-meal meltdown by bucking traditions and trying a new approach. This isn't your grandmother's Thanksgiving folks.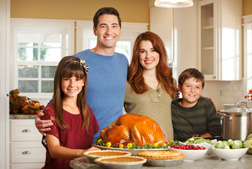 Take a note from Emily Post and teach Thanksgiving etiquette to your kids.
Easy entertaining tips for a stress-free Thanksgiving.
Start your own Thanksgiving family tradition to continue each year.
More traditional Thanksgiving dinner dishes >>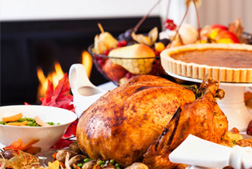 Who says you should do all the work? Host a stress-free Thanksgiving potluck instead.
No need for a formal sit-down dinner. Try an all-day open-house Thanksgiving party.
Host a sustainable Thanksgiving feast by using locally-grown food.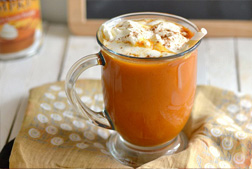 Vino is the traditional drink of choice and here's how to select the perfect Thanksgiving wine list.
Cozy up while watching the football game with a cup of hot cider.
Go old-school and serve up after-dinner drinks to toast to a successful holiday.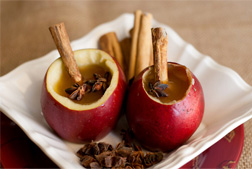 Consider hosting a pre-dinner happy hour with these creative Thanksgiving cocktails.
Dish up a delightful treat with these edible cups for apple cider.
Pretend you're a mixologist and shake up one of these festive fall drinks for your modern Thanksgiving.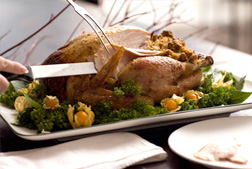 How to make a picture perfect roast turkey.
For a succulent bird, consider a brined turkey.
Learn the basics of serving up a tasty Thanksgiving bird.
More on the Thanksgiving turkey >>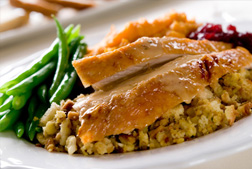 Try this boneless roasted turkey recipe if you're bored with the same ole bird.
For a cozy holiday with your sweetie, try one of these turkey recipes for two.
Forget the bird! Try a vegetarian tofurkey for a memorable modern meal.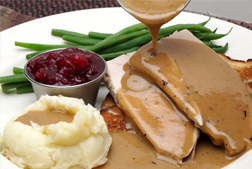 Make a Thanksgiving gravy that'll make grandma proud.
How to make homemade cranberry sauce your guests will love.
Gourmet mashed potatoes recipes to kick things up a notch.
More on Thanksgiving side dishes >>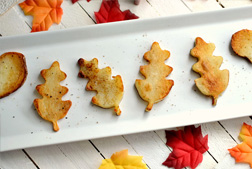 Move over mashed potatoes, these festive potato leaves will wow guests.
Think outside your standard starchy sides with a baked pumpkin mac 'n' cheese dish.
Just say no to cranberries in a can! Here are alternative cranberry recipes.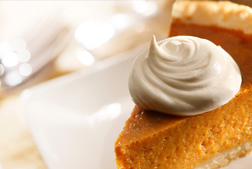 Thanksgiving dinner just isn't complete without a classic pumpkin pie.
Another fall favorite, this pecan pie recipe is sweet without being too sticky.
A longtime Southern favorite, sweet potato pie is an excellent alternative to all things pumpkin.
And for those who want to have their cake and eat it too: peekaboo pumpkin pound cake.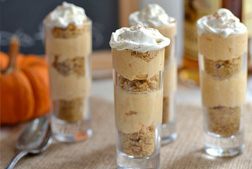 Wash down the shame of not serving traditional pumpkin pie with boozy pumpkin cheesecake shooters.
For a gobbley-good treat, make these turkey-decorated cupcakes.
Get on board with this year's Mason jar trend and try Mason jar pumpkin cupcakes. Or for a lighter dessert: oozing lemon souffles.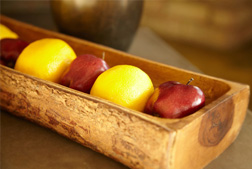 Celebrity designer Sabrina Soto shares ideas for classic Thanksgiving decorations.
These harvest home accents set the mood for giving thanks.
Respect the sancity of the table with traditional Thanksgiving tablescape ideas.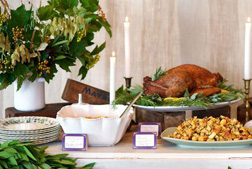 Move over gaudy gourds, we have modern Thanksgiving decorating ideas from the pros.
Update your Thanksgiving tablescape without breaking the bank.
DIY mini pumpkin candles will set the mood for your feast.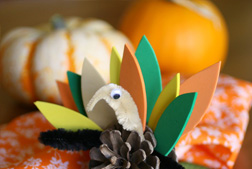 Welcome guests with with a nature-inspired Thanksgiving leaf wreath.
Place one of these pinecone turkey crafts at each placesetting for guests.
4 Festive fall crafts your kids will love to make.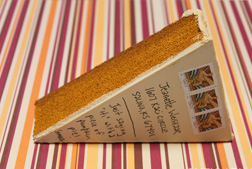 Use this pumpkin pie postcard as a Thanksgiving invitation and watch the RSVPs roll in!
Edible place cards will have guests running to their seats.
Drink up! This eco-friendly Thanksgiving centerpiece is made from beer bottles.
---
More on Thanksgiving