Whether you have a big Halloween party to attend or are planning to head out with the kids for trick-or-treating this year and want to wow the neighborhood, we have a great roundup of costumes. You can try homemade, store-bought or a little bit of both to create a family theme you and the kids will love.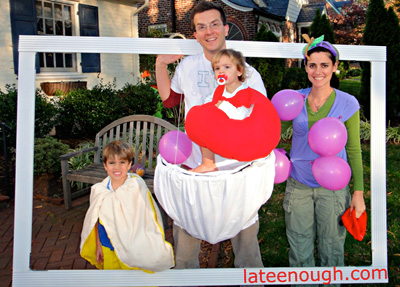 Still life painting
This clever costume from the Late Enough family can be completely homemade with Dad as a fruit bowl, Mom as grapes and the kids as whatever types of fruit you would like (although if you want to cheat a bit, the banana costume can be found in stores like Target or Walmart).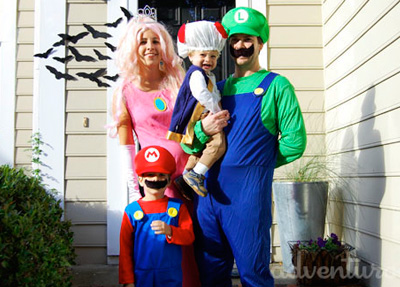 Mario Brothers
We absolutely love this idea from the Adventuroo family. The Super Mario Brothers have become a favorite year after year, and there are enough characters in the game to involve the whole family. A little bit of work and maybe a few trips to the store are involved in this one, but the results are well worth it!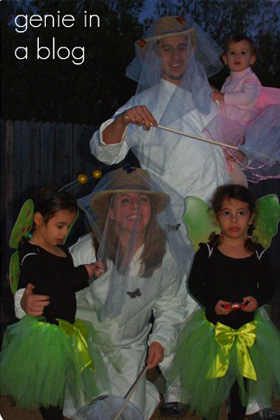 Butterflies and catcher
We love this cute family full of butterflies and catchers, courtesy of Genie In a Blog. You can make or buy the little butterfly costumes and create the bug catcher costumes from clothing you have at home.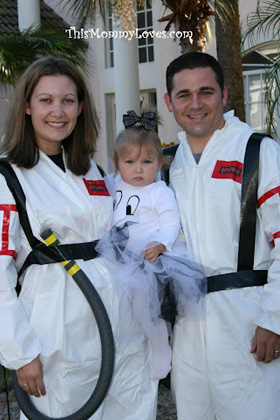 Ghostbusters and a ghost
Could this little ghost be any cuter? What a great idea from This Mommy Loves. With the parents as ghostbusters, you could have as many little ghosts as you have in your family. This easy and creative costume won't take too long to put together, but the neighbors don't have to know.
Looking for great ways to dress up your home, too? Try these homemade Halloween decorations >>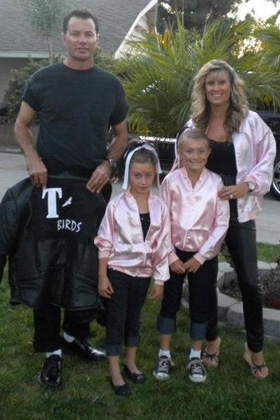 Grease
The Hesse family did a great job creating the cast of Grease, and the great thing about this costume is that you can create as many "Pink Ladies" and "T-birds" as you need. You could make or buy the poodle skirts and then create the guys' costumes from clothes you have around the house or find at a resale shop.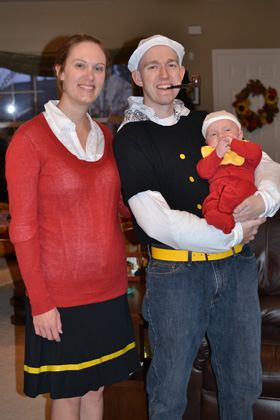 Popeye, Olive Oyl and Sweet Pea
This theme is perfect if you have a new little one. You can find most of this costume in your closets and make the rest without too much work. Our thanks to Spoon Fed Baby for such a great idea!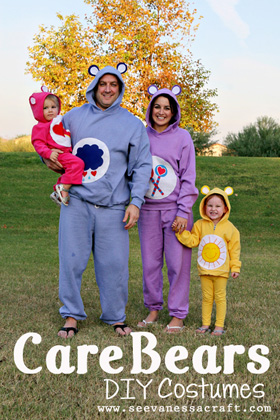 Care Bears
Okay, not only is this costume theme fantastic, it comes with a complete no-sew tutorial from See Vanessa Craft. The kids can pick their favorite bear, and your husband will get points for being the most dedicated dad on the planet for dressing up as a big fluffy bear.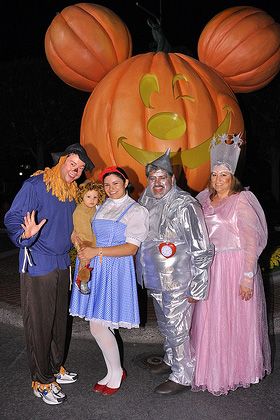 Wizard of Oz
Now here is a family that goes all out, not just mom and dad but grandma and grandpa, too. The Wizard of Oz is another great family theme from See Vanessa Craft and can be altered for the kids or adults in the family.
Bonus: Kid costumes
More on Halloween costumes
Top 10 Halloween costumes for couples
Halloween costumes and makeup ideas
Top 10 Halloween costumes of all time