Rock Rosie The Riveter For Under $30
Ladies, it's time to embrace your inner "girl power" and rock an iconic costume this Halloween! Rosie the Riveter is the ultimate female-empowering costume, and to top it off, it is cheap and easy to make. Round up a pair of jeans and your tennis shoes, get your hands on a denim button-up and a red bandanna, whip out that red lipstick that you've been dying to wear again and you're ready to go!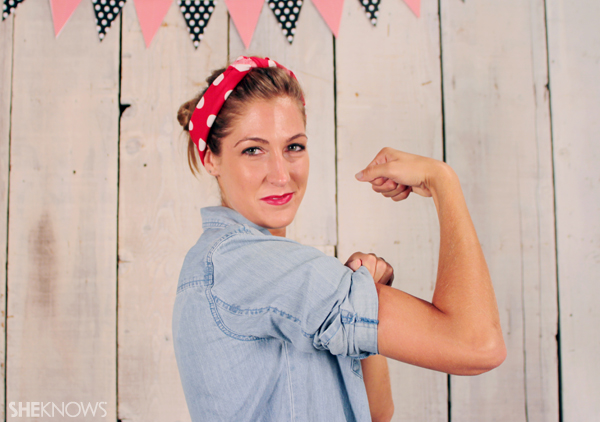 What You'll Need*
Cardboard: $1.97
Sharp-pointed felt-tip marker
Scissors or utility knife
Polka-dot bandanna/fabric: $2.29
Denim button-up: $13.88
Jeans
*Prices may vary
Tennis shoes
Red lipstick: $5.50
Bobby pins: $2.66
Round pencil holder
Brown belt
1
Tracing the pin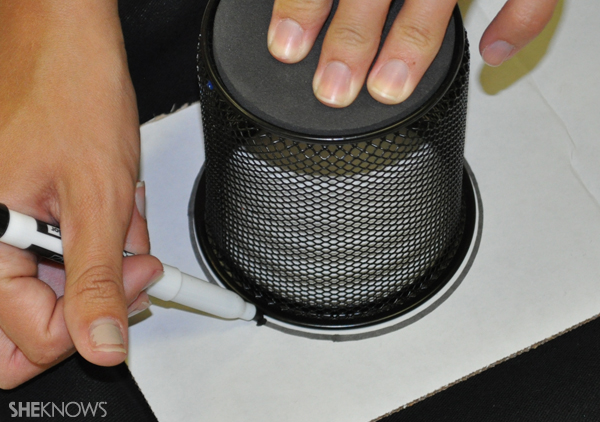 For this very first step, you're going to be making your "We can do it!" shirt pin. You'll need your round pencil holder (or any round object you can easily trace around), felt-tip marker and cardboard piece. Place the pencil holder on the cardboard and simply trace a circle onto your cardboard.*
*Tip: Trace your circle in a corner of the cardboard, so if you mess up, you have plenty left to start over.
For this step, you'll need a safe surface upon which you can easily cut through cardboard. Take your scissors or knife and cut out the circle you just traced. It's easiest to put the scissors all the way through a point in the cardboard and drag them the rest of the way around the circle. Once you've cut the circle away from the rest of the cardboard, go back and clean up any messy or lopsided edges with your scissors.
3
Write it out.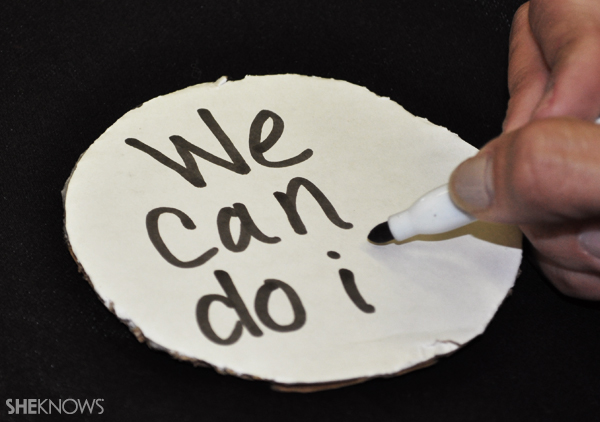 All you have to do for this step is write. Rosie is associated with the quote, "We can do it!" and that's exactly what you write on your pin. (Separating the quote onto two lines will help it fit best.)  Let's face it, some of us just don't have beautifully scripted handwriting, so if you fall into that category, don't feel guilty printing the phrase out in a nice, bold font and gluing it to your pin!
4
Perfect pattern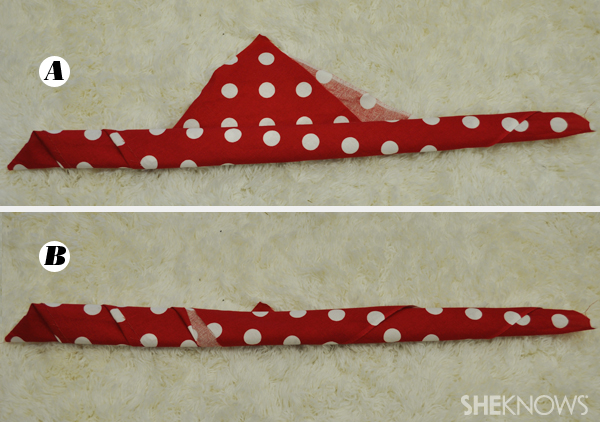 This isn't your typical paisley-print bandanna, so check out your local fabric store to get the exact Rosie the Riveter pattern. You'll only need about half a yard of the fabric, enough to be able to tie it around your head. Once you have your fabric, fold the square in half and then into a triangle, and then start with the point and fold the fabric up to the opposite end. You can make the bandanna as thick or thin as you want, to cover more or less of your hair.
5
Tying your bandanna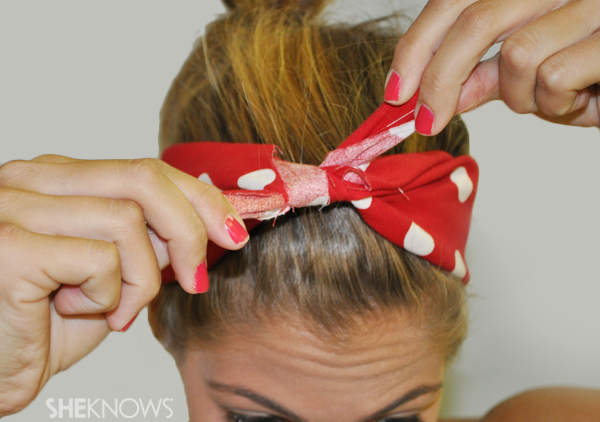 Before you tie your bandanna around your head, take a couple of bobby pins and just the top section of your hair, and pin it into a small bump. Then put your hair up in a somewhat high and messy bun. After this, place your folded bandanna at the back of your head, holding the ends of it in each hand at the top of your head. Simply tie the ends together in a knot, right behind the hair you've pinned up. For a video tutorial on the hairstyle and bandanna, check out this link: http://www.youtube.com/watch?v=8tyhGYkSqQU!
Time to grab that ruby-red lipstick and apply! After application, grab a tissue, fold in half, place between both lips, and close them together over the tissue. This will prevent excess lipstick from smearing and getting all over your teeth.
7
Pull it together!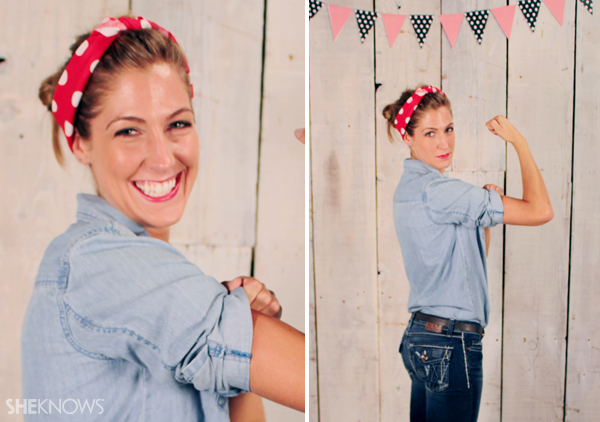 Slip into your denim button-up and tuck it into a pair of your comfy jeans, and you're almost ready to go. Snatch a plain-brown belt and a pair of tennis shoes from your closet, tape your pin to your shirt, and your Rosie the Riveter costume is officially complete! Now it's time to hit the town and show off your inexpensive new creation!
More homemade Halloween costumes:
How to... be Flo the Progressive lady for Halloween
How to... be soap and a loofah for Halloween
How to... become Katniss Everdeen for under $30
How to... make a broken iPhone costume
How to... make a gumball machine costume
How to... make a "Nerds" Halloween costume
How to... make Dora the Explorer's magical backpack
How to... make a Fruit of the Loom Halloween costume
How to... make a Where's Waldo Halloween costume
How to... make a flight attendant costume