Party time!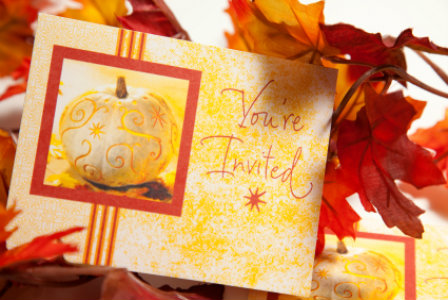 Halloween is the perfect holiday to host a party! Whether you're throwing kid-friendly affair or an adult soiree, we've got you covered. Here's a selection of fun Halloween party invitations.
FROM SPOOKY TO SOPHISTICATED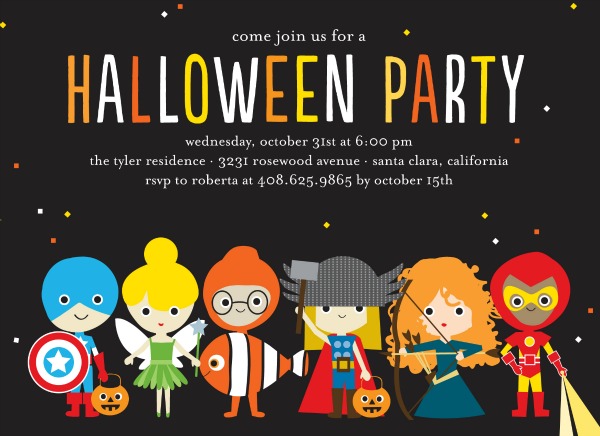 This flat card from Tiny Prints is bursting with kids in colorful costumes against a black night sky. For a special touch, grab a coordinating set of matching address labels.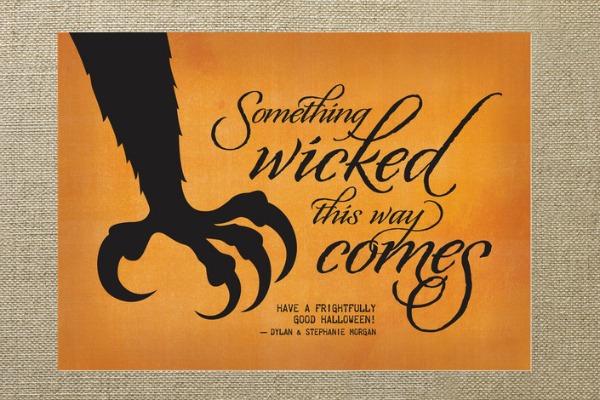 If you're one of those families who loves the scary aspect of Halloween, you'll love these Minted invitations featuring the black silhouette of a crow's claw on a pumpkin orange background. You might just be inspired to go with a whole crow-themed Halloween party!
If you're throwing a grown-up bash, try this sophisticated Costumes & Cocktails invite. You can either print your own card or order custom printed cards from this Etsy seller.
Is a classy, blood-spattered invitation an oxymoron? Not with these gorgeous letterpress invitations that feature a "deep red blood splat" alongside your party details.
This cocktail-sipping skeleton has the right idea — to "eat, drink and be scary!" You can order a batch of them, or if you're short on time, cardstore.com will send them directly to your guests.
Short on time? Sweet Pea Baby will create a digital file of your custom invitation for you to print out right away. These poster style invites come in your choice of green, orange, purple or grey.
Let this x-ray hand image inspire you to create your own creepy message. These cards from cocodot can be ordered as printed cards or sent online through email and Facebook, giving guests the ability to RSVP online.
Need a theme for your Halloween party? How about mustaches? Announce the theme with a mustache pumpkin invite! Include a stick-on mustache in each envelope and hand out mustaches on a stick to party-goers as photo props.
Invite the neighbors and host a pumpkin-carving party on your front porch! These invitations will announce the party in style. For pumpkin carving party inspiration (and tons of gorgeous photos), head to the Everyday Occasions blog.
Have a teen who loves horror flicks? Host a Halloween horror movie marathon! These party invites are to die for!
More Halloween fun
Throw an unforgettable Halloween party with these tips and tricks:
More fun Halloween ideas
Choosing age appropriate Halloween activities
Halloween screening: Favorite scary movies
Healthy alternatives to trick or treat candy