Favorite flicks for Halloween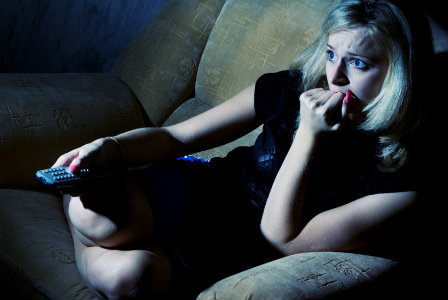 When the trick-or-treaters have gone to bed, lock the doors tight, pop a big bowl of popcorn and treat yourself to a night of terror. Here are ten of our favorite horror movies to watch on Halloween night.
Horror movies
for Halloween
Based on a novel by Steven King, and produced and directed by Stanley Kubrick, this classic horror film features Jack Nicholson as a writer who takes a job as caretaker of an isolated hotel during the off-season. He slowly goes mad as the hotel's ghosts turn him into a homicidal maniac bent on murdering his wife and son (who has his own disturbing telepathic relationships with the resident ghosts).
Long before Johnny Depp was known as Captain Jack Sparrow, he gained fame as one of the teenagers stalked then murdered in their dreams in the 1984 slasher film Nightmare on Elm Street. The villain in the Nightmare franchise is Freddy Krueger, a freak with razor-sharp bladed glove who lurks in the high school boiler room when he's not murdering unsuspecting teens in their sleep.
Naomi Watts stars in this 2002 thriller about a mysterious videotape with random disturbing images. Anyone who watches it receives a phone call telling them they will be dead within a week. Again and again, the movie shows the curse to be a valid one.
This 1978 horror flick is the granddaddy of scary movies. The first in a series of 10 films, the original Halloween stars fictional character Michael Myers, a man locked up as a child for the murder of his sister. 15 years later, he escapes the sanitarium to terrorize a teenage girl and her friends while being chased by his former psychiatrist.
If you liked Zombieland, youll love Night of the Living Dead. Creepy graveyards and an abandoned farmhouse set the scene for this 1968 film featuring bloodthirsty zombies desperate to feast on human flesh.
This 1982 is consistently included in "scariest movie" rankings, and for good reason. The film focuses on a family who moves into a new home haunted by ghosts. The family's daughter Carol Anne talks to the ghosts through the TV static and is then abducted through a portal in her closet.
You might want to hide under the blanket while watching this disturbing film. The Exorcist features the the demonic possession of a12-year-old girl and her mother's attempts to rid her of the demons through an exorcism performed by two priests.
If you like crime thrillers, this is the horror film for you. Silence of the Lambs is a 1991 film starring Jodie Foster as an FBI Trainee and Anthony Hopkins as a cannibalistic serial killer. Unlike most horror films, this one won Academy Awards -- five of them!
Inspired by a real life murderer, Psycho is a 1960 Hitchcock-directed thriller that tells the tale of a secretary who embezzles money and then checks into the Bates Motel to hide out. Little does she know the motel is run by a deeply disturbed owner and manager, Norman Bates (Anthony Hopkins). Be warned, you might not want to get in the shower for a while after watching this film.
Planning a camping trip any time soon? Then don't watch this movie. The Blair Witch Project is a psychological horror flick presented as "recovered footage" from three student filmmakers who disappeared in the hills of Maryland while filming a documentary about the legend of the Blair Witch. The realism of the faux documentary is what's most disturbing about this film.
Tell us
There's no way we could include all the great horror films in one short article. What did we miss? Share your favorite scary movies in the Comments section below.
More fun Halloween ideas
Fun Halloween party invitations
Choosing age-appropriate Halloween activities
Healthy alternatives to trick-or-treat candy