Buy dad a pocket watch
Practical? Well, maybe not. But it is totally old school and will appeal to his nostalgic sensibilities. A nice pocket watch also has the opportunity to become a family heirloom that originated with you, so make sure to get it engraved with a special message just for him. Share an inside joke on the engraving with something like, "I promise I'll never go to Cabo again." Or share a sweet sentiment that he'll be reminded of every day when he checks the time.
Dig up your family tree
If genealogy is an interest or hobby, compile your family history on your dad's side for Father's Day. This is a thoughtful and inexpensive gift, but it may require a significant investment of your time — it's really up to you how far back and in-depth you want to make the project. Talk to family members to uncover new stories about relatives that you never met and better understand your roots. Look to tools such as ancestry.com to help fill in the blanks.
Put your discoveries in a family album for dad or design and frame his family tree. This will be a gift that can be enjoyed and carried on for generations to come.
Give dad a bottle of bourbon
For the all-American dad, what's better than a nice bottle of bourbon whiskey? This is almost as classic of a gift as a tie, but it's way more fun. You can get a good bottle for as little as $20 or as much as $100. If you're not sure what brand would be best, your best bet is to consult with a sales representative at your local specialty food and wine shop. Make sure they carry spirits, and then describe your dad's tastes along with your budget. Any qualified rep should be able to help you make the perfect selection.
Here are a few things that you should know about bourbon before you go:
Bourbon is a type of American whiskey that is most notably made in Kentucky. It is also made in other regions of the south, and it can be made anywhere in the U.S. and still carry the bourbon name.
Bourbon cannot be more than 90% ABV, or 180 proof.
Bourbon is primarily made from corn and is aged in new charred, oak barrels for at least 2 years. Typically, it is aged for at least 4 years, and it must be labeled if aged for anything less.
Small batch bourbons are bourbons that are made from a small group of specially selected barrels and then blended together.
Single barrel bourbon is made from one specific cask.
Furnish his space with a few great finds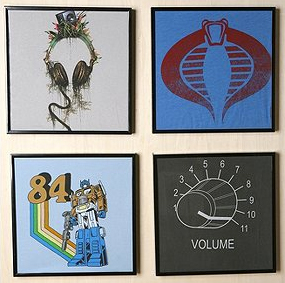 Help your dad decorate his office, den or man cave with memorabilia from his favorite team, movie, brand, band or musician. For the ultimate sports fan, pick up an autographed jersey or ball that he can proudly display for all of his friends to see (and envy). Look for old and authentic posters, fliers, pennants or trading cards and have them professionally framed. Another great way to decorate your dad's space and help him hold on to memories of the good old days is by framing his favorite old T-shirts using T-shirt frames. They are inexpensive and super-easy to put together. If he happens to keep old ticket stubs, borrow his collection, organize it and put together a scrapbook that's full of images from the baseball games he attended, sheet music from the bands that he saw in concert or copies of old advertisements for the movies he loved, and leave plenty of blank pages available for the documentation of future fun.
If you still haven't found what you're looking for, check out our Father's Day Gift Guide galleries >>
Check out more gift ideas for dad
Father's Day gift ideas for the new dad
Sports fan dad gift guide
Dads who have everything gift guide