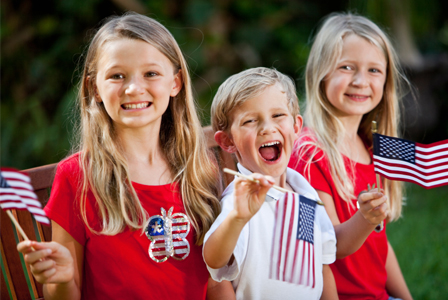 Memorial Day is so much more than an extra day off and decorating your porch with red, white and blue. Taking the time to honor our many fallen heroes can make the day much more memorable.
Honoring the reason for Memorial Day
Choose one of these five activities to incorporate the true meaning of Memorial Day into your end-of-May plans.
Memorial Day comes at the perfect time of year for an extra day off. The weather is nice almost everywhere and we can see summer on the horizon. Many of us host a barbecue or attend a cook-out with friends and family -- but do we really stop to remember the meaning of Memorial Day?
Memorial Day was created to honor those who have lost their lives fighting for our country. Here are a few ways to incorporate true meaning into your Memorial Day plans.
Observe the national moment of silence
At 3 p.m. locally, take one minute to pause and reflect. Encourage those around you to do the same. It is a perfect way to refocus, remember those who lost their lives for our freedom and bring some new perspective to the day.
If you have time for a quick getaway, try visiting one of these top 10 Memorial Day weekend trips >>
Visit a local memorial
Many local memorial sites host special ceremonies on Memorial Day. Visit The US Department of Veterans Affairs to find one near you. If there is not one near you, go to the View the Wall website where you can virtually tour the Vietnam Veterans Memorial in Washington, D.C., and pay tribute to the many names there.
Hug a military family
Military families are making a huge sacrifice for all of us, from parents raising children on their own while their spouses are deployed to the many individuals spending years away from their families to put their lives on the line for us each and every day. Take a moment to give thanks to a military family you know.
Attend a Memorial Day parade or gathering
Across the country, there will be parades, carnivals and gatherings to celebrate Memorial Day. Don't just go for the fancy floats and bags of popcorn -- make sure you find a veteran to thank or take an extra few moments to pause at the flag and remember what the day's festivities are truly about.
Fly your flag
Make sure that you have your flag prominently displayed on Memorial Day -- it is appropriate to fly it at half-staff on this day of remembrance. If you want to do more, visit your local memorial cemetery and leave flags at the grave markers of the soldiers buried there. We have so much to thank these fallen heroes for.
More on Memorial Day
Memorial Day weekend travel tips
Memorial Day decor and DIY ideas
Memorial Day party guide