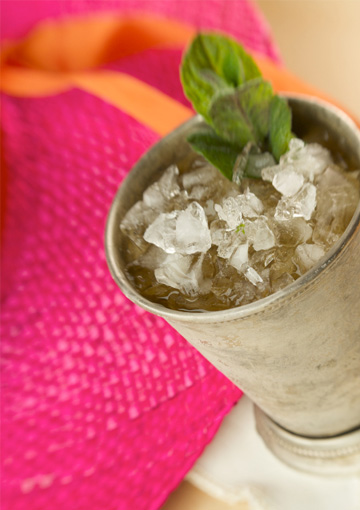 Run for the roses!
There are usually two types of Kentucky Derby attendees and party styles: elegant and laid-back casual. Pick your style and have fun hosting a Kentucky Derby party!
Gather with friends to watch the "most exciting two minutes in sports" as horses run for the roses at the Kentucky Derby on the first Saturday in May. It's the perfect reason to host a spring party. The traditional food and drinks for Derby Day are great, the excitement is full-throttle and you can even enjoy some fun party games!
Invitations
Whichever party is your style, create your own invitations. For a casual event, consider an e-vite that you can customize with roses, horses and bright colors. For a more formal party, consider printing invitations, or make your own with fun embellishments. This is a great activity for you and your girlfriends to do together.
Decor and food
Millionaire's Row
The expensive box seats at the race, referred to as Millionaire's Row, are where the rich and famous mingle to watch the race. If you're hosting an elegant party, pull out all the stops. It's a good time to use your fine tableware and crystal or silver glasses. Feast on a sit-down meal of grilled shrimp or pork roast with a tasty bourbon glaze as main course options. Bloody Marys make a good beverage, but of course you must have mint juleps, too. Use red roses or a combination of red and white as your floral arrangements (a blanket of red roses is placed on the Derby winner). Since the jockeys wear silks, play on that as part of your decor. Visit a fabric store to find silk fabric in colorful shades or bold patterns to place around your table settings or the spot where you'll keep drinks.
Infield at the track
The infield at the Kentucky Derby is a general-admission spectator spot. Keep in mind that "spectator" doesn't mean you'll actually see the horses run -- this is where you head if you're more interested in a party than in watching the race. If that sounds more like your style, follow suit by going more casual with a backyard-barbecue vibe. Use colorful, reusable plastic dishes and cups, and casual, red-checkered tablecloths and napkins. Serve a Southern barbecue spread like pulled pork sandwiches, roasted corn and salads. Cold beer for a casual gathering works, but again, mint juleps reign on this day! Decorate with spring flowers and green plants, or inexpensive straw hats.
Party games
It's not often you get to play games at parties anymore, right? Make your party even more fun with a few simple games to keep with the theme of the day.
More party tips to follow
How to throw a Kentucky Derby party
10 party hostess tips
Hostess etiquette: The new rules