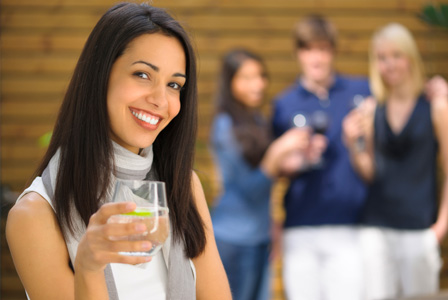 Entertaining at home is one of my very favorite things. I especially love it when it's warm outside and the grilling is easy! Here are some tips to create a memorable meal and host a party that provides fun and festivity for all.
How to Plan an unforgettable party
Use fun ice cubes
There are many fun ice trays available to make ice cubes that are anything but run of the mill! Spice up your gathering with ice shaped like robots, hearts, stars, guitars and even dinosaurs. These will bring a smile to the faces of kids and adults alike.
Use planters or baskets as ice buckets
An inventive way to use pretty planters is to ice down drinks in them. You can find inexpensive options at any home store or online. By lining a favorite basket with thick plastic, you can use it as an unexpected and unique beverage server. As a focal point on your deck or patio, these distinctive drink holders will have your guests complimenting your ingenuity!
Grill the dessert
When you announce that dessert is going to be created outside on the grill, watch your guests' eyes light up with delight! Fruit is fabulous on the grill; try pineapple, peaches or banana for a festive skewer that says summer is here. Serve with vanilla bean ice cream for a yummy treat. You can also grill pound cake and add fresh whipped cream while it's still warm. S'mores are a summer dessert everyone loves and you can easily make them in a Dutch oven on your grill. Who knew?
Swap recipes
A great way to learn about new dishes is by having everyone at your meal gathering bring copies of a favorite recipe and swap. If a friend makes a salad or barbecue brisket you love, request that he or she bring that recipe for the swap. Make this a tradition when you share meals with pals and watch your recipe collection grow.
Send home a favor
Note: It isn't hard to create a memorable meal gathering with out much time or financial expense. Time spent with family and friends is always the best gift and they will feel loved (and full) when you practice these fun tips for your next get-together.
Having a little treat to take home at the end of the evening is always a nice way to say goodbye to your guest. A fave of mine is chocolate-dipped pretzels or potato chips. You can buy a huge bag of either and simply melt dark chocolate in the microwave. Dip each pretzel or chip only halfway into the chocolate, so half is naked and showing. Set on a cookie sheet lined with wax paper to harden. Use a square of plastic wrap to gather together the choco treats and tie a festive bow around it with ribbon. (I save all my ribbon, bows, tissue paper, etc., if they are reusable. Why buy more when you can just recycle perfectly good wrapping supplies?)
Mini brownies are another fun treat you can make in a snap. Make the batter from scratch or just buy a boxed mix (add a teaspoon of real vanilla extract to make it taste more homemade). You can add a gourmet touch by pouring half the batter in the pan, adding a layer of peanut butter or marshmallow cream, then topping it with the rest of the batter. After you bake and cut the mini squares you will see the middle layer peeking out, beckoning you to indulge! Your guests will love you the next day when they remember the treat you sent home with them and they can relive the wonderful time they had at your gathering.
More entertaining tips
In a pickle: What to do with an unexpected guest
Summer party-planning cheat sheet
How to be the best hostess