Hosting Your Child's First Birthday Party
Congratulations, your baby is turning a year old! Soon, your little one will be walking, talking and growing up before you know it. Though your baby's first birthday should be special, it doesn't have to be expensive or over-the-top. Follow these simple tips for planning your child's first birthday party.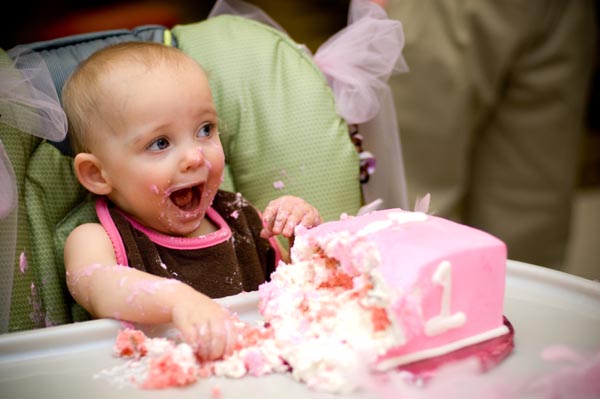 Keep it small
No matter how tempted you are to invite everyone you know, hire jugglers and clowns and rent ponies, you should keep your child's first birthday party relatively small and simple. Your 1-year-old may be fearful of strangers, over-stimulated by crowds or overwhelmed by noise and new places. Keep in mind that your little one won't even remember this party, so anything over-the-top will only be for you.
Plan around naptime
Most 1-year-olds still take morning and afternoon naps, so try to schedule the party with naptime in mind. Midday might work for some kids, while after dinner might be an option for others. Also, set a time limit. Around this age, any party longer than an hour or two will probably be too long for your child to enjoy.
Stay within budget
According to a poll of over 5,000 parents on BabyCenter, 61 percent of parents spent $200 or less on their baby's first birthday party with 25 percent spending between $200 and $500, and 11 percent spending more then $500. Read these money-saving tips for your baby's first birthday.
Consider other locations
In most situations, your home is the optimal location for your baby's first birthday party. However, if your house or apartment is too small to host guests, consider other locations: Your neighborhood community center, apartment complex club house or church hall. If your child is comfortable in noisy, busy spots, the children's museum or a child-themed restaurant are terrific options. When the weather is nice, the local park or even the zoo are also fun choices.
Set a theme
Kids of all ages love a good theme -- plus, themed parties make for great pictures. You can center the theme around a certain color or plan it around your baby's favorite cartoon character. Disney Baby offers affordable partyware -- plates, napkins, cups, cards and more -- with the popular Mickey Mouse or Minnie Mouse themes.
Hire a photographer
You want tons of pictures of the party but you don't want to spend the entire time behind the camera? Consider hiring someone to take the photos for you. It doesn't have to be a professional -- just a friend or relative who's good with a camera and who you trust to get the shots you want.
Plan your menu
You don't need to spend all day in the kitchen preparing party food and baking a cake. Plan your menu and keep it simple with sandwiches, pasta salads and iced tea for adults. For the little ones, serve up bite-size cakes and other treats, as well as no-choke finger foods and other baby-friendly options. Order a cake from your favorite bakery or pick up the food from a local deli to make things a little easier on you.
Quick Tip
For your baby's first (or even second) birthday party, we love the idea of having a Cheerios and cereal station. Place assorted cereals in clear containers for a simple display. Babies and toddlers love eating dry cereal with their fingers, and it's great for developing fine motor skills.
Get crafty
Instead of buying generic decorations, you can make your own. You can decorate the room with photographs of your baby from every month of the year, hang up clothes that your little one has grown out of or ask your guests (the parents and the kids) to bring a picture of themselves at one year old to use to make a memorable photo collage.
Forget about the competition
Kids' parties shouldn't be a competition among moms. Forget about what your sister, cousin, neighbor and friend did for their baby's first birthday parties. You don't need to compete with anyone in terms of the activities, food or cost of your party.
Relax and have fun
Drinks will spill, accidents will happen and kids will cry, but you shouldn't sweat the small stuff. Relax and enjoy yourself with your baby and your guests. Birthday parties are meant to be fun and sometimes we get too caught up in all the details. Put on some music, break out the bubbles and just have some fun with your wee one. Your one-year-old will be a teenager before you know it.
More first birthday party tips
How to have your baby's first birthday party
First birthday party food
First birthday party themes