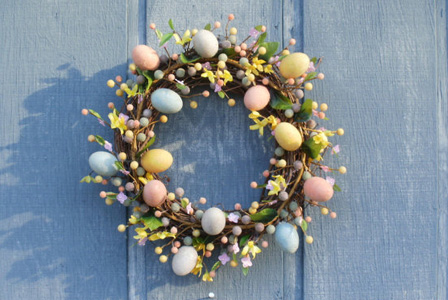 Invite your family, friends and neighbors over for an Easter egg hunt and backyard party. Follow these tips and suggestions to create festive outdoor Easter decorations to liven up your patio, garden or yard.
Decorating for an Easter egg hunt
Decorate your door
Welcome your friends and family by decorating your front door with a festive Easter wreath. If you aren't crafty yourself, don't worry -- you have plenty of options on Etsy that are adorable and affordable. We love the spring flowers Easter egg wreath (above) from Silk N Lights Designs. This pretty wreath is just $43.
Add blooming plants
Decorate your outdoor patio with several small flowerpots containing blooming plants or spring flowers such as daffodils or bluebells. Cover a picnic table (or several tables for a larger party) with pastel fabrics. If you don't have tablecloths in pastel shades, you can use fabric remnants or even sheets.
Create carrot centerpieces
For an Easter get-together, decorate with bunnies, eggs and other traditional Easter themes. However, when making centerpieces, think outside the box. One idea is to buy several bunches of carrots with the long greens still attached. Place them in clear containers with the greens above the top rim for a colorful, festive look. Another idea is to make an Easter tree. Place a tabletop artificial Christmas tree in the center of the table and decorate it with Easter-themed ornaments made out of construction paper, or with hard-boiled Easter eggs hanging by ribbon.
Let there be light
Your Easter egg hunt and party doesn't have to be early in the day. You can host the hunt in the late afternoon, serve an early dinner and mingle with your guests into the evening. Add a little light and sparkle to your outdoor space by hanging strands of tiny white lights. You can light up your deck, railings and even your trees. Paper lanterns in pretty pastel shades are also an adorable idea for an Easter event.
Set up a candy station
Easter candy is so beautiful and colorful that it can become the focal point of your party. By setting up a candy station, your guests can have plenty of treats to choose from, and you can add instant color to your party space. Check out this amazing Easter candy station on Wants and Wishes.
Before the kids start hunting for the eggs you have strategically hidden around the yard, set up a table where they can decorate egg cartons or craft bags to carry the eggs they find. Collect egg cartons in the weeks leading up to the party, then supply markers, paints, glitter, stickers and other supplies for decorating.
More about Easter
How to host an Easter brunch
Easter basket alternatives: More than just candy
Easter recipes for the whole family