It's The Little Things
Sometimes, relationships get in a rut. A certain amount of comfort in a relationship is crucial to making it work, but if you're finding yourself missing that spark, try these 10 ways you and your husband can strengthen your marriage.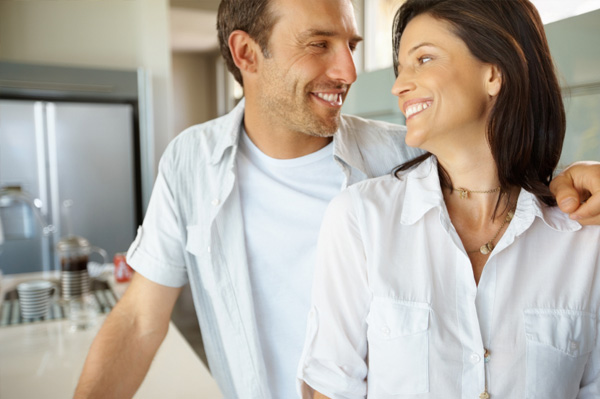 1
Do the things you
used to do
In almost all marriages, hobbies get thrown to the wayside for work, kids and other, more crucial activities. If you and your husband used to share a hobby, get back to it. Sharing an activity is an easy way to get back in touch with each other. Plus, you can remind him that you're still the girl he married.
2
Start a new hobby together
Have you two been chatting about hiking or wine making? It's time to stop daydreaming and put those plans into action while learning and growing together. Take a class or buy a book about the hobby of your choice — just make sure you set aside the time to actually do it at least once a week.
If you're constantly annoyed by the actions of your spouse, maybe you just need to spend some time apart. Find an activity you can do on your own. The time spent apart will make seeing each other that much sweeter.
It seems simple, but just chatting and loosening up over a bottle of wine can do wonders for a relationship. The wine will make you a bit more open, and just taking any time to chat with your husband is constructive. And who knows where it could go from there?
5
Discuss where your marriage is
Whether you're just starting out or nearing retirement, verbally assessing your financial and romantic relationships will help you gain perspective on how you each feel about the future. Relationships are a process. You're both going to change over the years, and if you don't talk about it, there's the danger you may not change together.
And remember, it's not a competition. If both of you don't win, neither of you do. That doesn't mean you shouldn't compromise, it just means you should both be equally satisfied, even if neither of you are really getting your way all the time.
We're not talking about diamond rings and custom watches here. If you're at the grocery store and you spot a treat that reminds you of him, buy it and give it to him as a surprise. Is there something that reminds him of his childhood that you just can't get in your area? Check the web to see if you can have it shipped to your house. It may sound silly, but even something as silly as finding the Stadium Mustard he loved as a kid reminds him that you think of him when he's not around.
7
Accept your differences
You might want to change some things about your spouse, but accepting that you're both fallible and human helps you see things from his perspective. Remember, there are probably things about you he doesn't like, either.
8
Do the chores before they're crucial
If you notice the plates stacking up in the sink, wash them before it becomes an issue. Don't fuss about who's doing more chores or place blame on the other person; instead, work on fostering a healthy, cooperative environment.
9
Talk about the good times
Reminisce about the events that brought you together in the first place. What made you fall in love with him? Did you think you'd marry him? Remembering the good times only leads to more of them. (At this point, we'd like to refer you back to our tip about drinking a bottle of wine together.)
10
Take pride in yourself
No one wants to be with someone who's insecure and unsure of herself. Do the things that make you feel good, whether that's a pedicure or a trip to the gym.
More about relationships
10 Ways to strengthen your friendships
Spend quality time with loved ones
5 Resolutions for a happier you