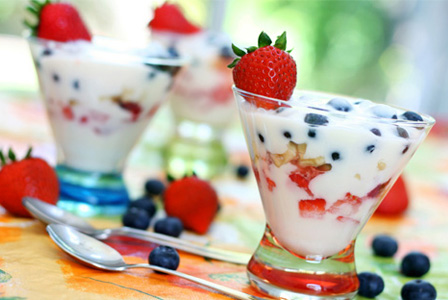 Everyone knows that eating breakfast is important, but life tends to get in the way. Here are 10 no-cook breakfasts for those mornings when the clock is not exactly your friend.
Breakfast on the run
Yogurt parfait
Yogurt is not only good for you, but also an easy breakfast for on the go. Yogurt has lots of friendly bacteria to keep your digestive system healthy and running smoothly. Add your favorite ingredients for a super start to your morning.
Just put a layer of your favorite flavor of yogurt in a cup, and then add some sliced fruit. Sprinkle with chopped nuts or granola, and then add another layer of yogurt. Continue the layers until the cup is filled.
Sweet tortilla roll-ups
Although you can use any type of tortilla for this quick meal, a whole grain tortilla adds a shot of extra nutrition in the form of B vitamins and fiber. Just warm up a tortilla until it is pliable and spread it with peanut butter. Add some sliced bananas and a drizzle of honey, then roll it up and eat it on the way to work. This would also work with Nutella, jam, almond butter and chopped nuts — get creative! Be sure to fold the bottom in as you roll it up so that the filling doesn't drip out on your lap.
Fruit smoothie
Toss your favorite fruit (or fruit combo) into a blender with a cup of yogurt, a teaspoon of honey and a spoonful of protein powder, blend until smooth and voila. Some fruit ideas are strawberry, banana, mango, pineapple or blueberry.
For a more filling option, add oats to your smoothie. Not only do they add a hearty texture, but oats can lower your cholesterol, boost your immune system and contain antioxidants. Just add a half a cup of rolled oats and a half a cup of skim milk to your smoothie recipe for an added energy boost.
Breakfast in a pita
Fill a whole-wheat pita with a chopped hard-boiled egg, grated or sliced cheese and deli ham. You could really use any type of cheese or deli meat you prefer, including turkey or roast beef. It can still be considered breakfast since it does have egg, after all. All those hearty ingredients in a convenient edible package are satisfying and will rev up your sleepy metabolism with a burst of protein. You can even make this the night before and have it ready to go in your fridge for on your way out the door.
Revisit cottage cheese
Cottage cheese has gotten a bum rap as a boring diet food. Really, though, it's delicious and full of protein. Cottage cheese topping ideas include fresh fruit, a sprinkling of chopped pecans, a drizzle of honey, a handful of sunflower seeds, applesauce and cinnamon, dried cranberries and granola. If you're craving a savory morning meal, stuff a whole grain tortilla with cottage cheese, sliced avocado and low-fat deli meat for a savory wrap. Or simply spread low-fat cottage cheese atop a toasted English muffin.
Bagel-icious
You can never go wrong with a bagel. A whole wheat bagel is low in fat and high in fiber. Spread it with your favorite flavored cream cheese and sliced strawberries, peanut butter and jelly or avocado for a luxurious breakfast treat. Or make your own bagels and lox at home by toasting your bagel, spreading with cream cheese, and topping with smoked salmon, capers, red onion and dill.
More quick, no-cook breakfast tips
Have lunch for breakfast — Stop stereotyping breakfast. Have a roast beef and provolone sandwich for breakfast if that's what you like. A few slices of your favorite deli meat, cheese, crackers and a slice of tomato might hit the spot.
Bag it — Mix a handful of dried fruit such as raisins, cranberries, cherries and apples with some chopped nuts, sunflower seeds and bite-size crackers. Put the mixture in a resealable bag for a homemade breakfast mix.
Muffin magic — A muffin is the perfect breakfast-to-go. Just make a batch of your favorite healthy muffin recipe on the weekend and freeze them. Warm one up for a few seconds in the microwave for an inexpensive, no-bake breakfast treat.
Look at your leftovers — Leftover pizza, spaghetti, stew and chili all make for easy breakfasts that save you money.
More great breakfast ideas
Protein-packed breakfast ideas
4 Easy organic breakfast ideas
Top 10 healthy breakfast ideas