Clever Baby Shower Decorations
Let's face it, baby showers are a dime a dozen, so hosting one that astounds the expecting parents and their loved ones is no easy task. Read on for some fresh ideas for baby showers.
(page 3 of 6)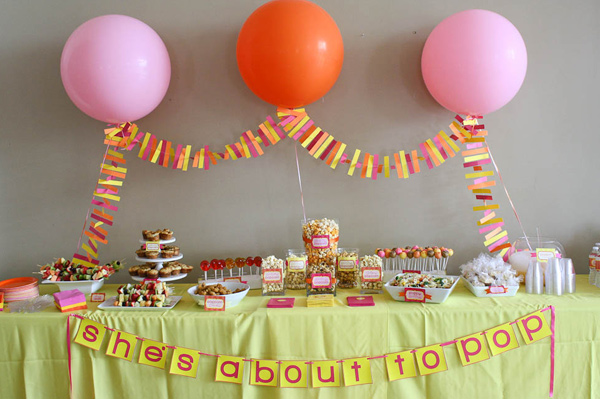 She's about to pop!
This fun and clever theme is sure to inspire a variety of décor, food and drink ideas to "pop" into your head. When Jennifer Faught, owner of Something Detailed, styled this shower, she embellished the invitations with a poppy flower cut-out and used brightly colored balloons to decorate.
In addition, she says, "This theme is all about color. Choose two or three colors and make sure everything is within that color scheme. Guests love to see the 'She's About to Pop' theme carried throughout the food too. Choose foods that have the word 'pop' in the names, or make it up. We used a popcorn bar for the centerpiece of the food table and paired it with foods like popcorn chicken, poppy seed pasta, popovers, cake pops and poppin' punch."
Photo: Something Detailed
Up next: More unique baby shower themes >>