Clever Baby Shower Decorations
Let's face it, baby showers are a dime a dozen, so hosting one that astounds the expecting parents and their loved ones is no easy task. Read on for some fresh ideas for baby showers.
(page 2 of 6)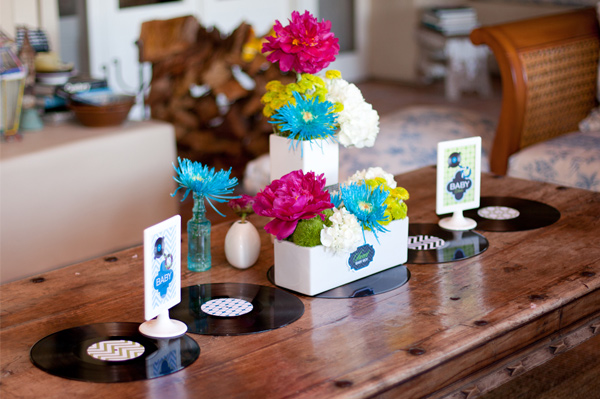 You spin me right round, baby
Inspiration for a shower theme can come from anywhere—even song lyrics! For example, Jenn Sbranti, founder of Hostess with the Mostess and HostessBlog.com, was asked to help style a shower inspired by the record-inspired lyrics of "You Spin Me Right Round."
For this theme, Sbranti says, "Purchase vintage vinyl records to use throughout the party décor. Then tailor them to your own color palette by covering the center labels with decorative paper. You can find vinyl records for as little as $1 each."
In addition, she recommends creating simple, colorful flower arrangements to add a feminine element to the theme for the mom-to-be. "But make sure to incorporate a little 'rock star vibe' as well by adorning the vases with things like rhinestones and diamond ribbon," she adds.
Photo: Hostess with the Mostess
Up next: More unique baby shower themes >>