Look Great
From Head To Toe
Halloween is a time for showing your creative side with a costume that's as unique as you are. That costume's not complete without show-stopping makeup, so here are some tips for Halloween makeup that's creative, easy and lasts for hours.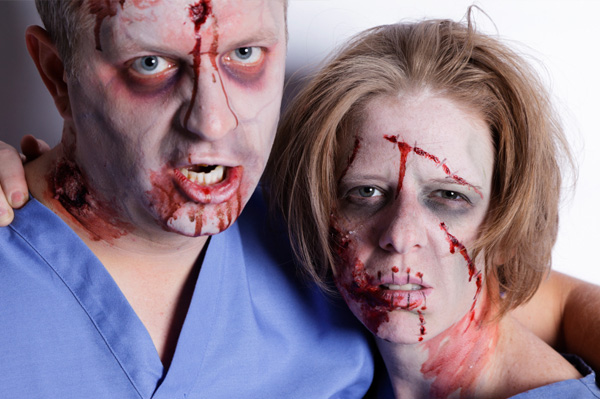 Base
A base of makeup will help your colors go on smoothly and stay in place long enough to get through a Halloween party or a long night of trick-or-treating. Instead of paying for expensive makeup bases from Halloween stores, try using your regular foundation. If you're going to cover your face with another color, no one will even know the first layer is there. If you want to look pale -- for a vampire or zombie costume, for example -- use a foundation that's a few shades lighter than your normal color. To add a slight tint to the base layer, mix an eyeshadow of your selected shade into liquid foundation. Do the mixing on the back of your hand, not in the bottle or on your face, and apply the makeup with a sponge to get even coverage.
Outline
Outline your entire face before you color anything in. This way, if you realize it's not going to work, it'll be much easier to get rid of what you've done so far. Try using colored eyeliner instead of makeup pencils; they smudge less and have better staying power. You can probably find some in great colors at a low price at a grocery or drug store. There's no need to go with a big name brand for just one night.
Tackle harsh Halloween makeup >>
Eyes
The eyes are the windows to the soul, and on Halloween, they're the key to your costume. Focus on your eyes when you apply your makeup, because that's usually the first place people look. Take extra time applying makeup in that area, and consider using temporary colored contacts if they suit your costume. If you're going to be a fairy or other mythical creature, all you may need is color and maybe a few crystal tattoos around your eyes.
Halloween makeup: False eyelashes >>
Blood
If you're going for gore, make your own non-toxic blood. This is especially important with children, as well as with costumes that call for blood near the mouth, like vampires. To make your own fake blood, mix three parts corn syrup with one part water, then add red food coloring slowly until you get the color you want. If you want a darker, brownish tone to the blood, add some chocolate syrup. To thicken it, slowly mix in corn starch until it reaches the desired consistency. This mixture will be very sticky at first, but that quality helps it stay put during application.
Homemade Halloween makeup, bruises and blood >>
Set it
To make sure your makeup stays put all night, set it with a light dusting of face powder. If you don't want it to be noticeable, try translucent powder from your regular makeup stash. For a matte look to finish the job, use baby powder. Be careful not to use too much, unless you're going for a complete white-out.
The rest of your skin
If you want your makeup to be convincing, don't stop with your face. Remember to add makeup to any skin that will show once your costume is in place, including your neck and hands. Cover these spots after your costume is on so you can be sure to cover all the needed areas and to prevent smearing when you get dressed.
| | |
| --- | --- |
| | Pair up with someone and do each other's makeup. It's much easier to get it right when you aren't looking in a mirror. |
More Halloween makeup ideas
Halloween makeup instructions: Scary skeleton face
Halloween makeup instructions: Cat or feline face
Halloween makeup instructions: Scary witch face