Gourmet Gifts
For Mother's Day
Unless your mom truly wants another bottle of perfume or fuzzy slippers, give her a Mother's Day gift she can really use. These gourmet Mother's Day gifts will delight the mom who loves to cook with the latest and greatest kitchen gadgets, food finds, and cookbooks.
(page 3 of 3)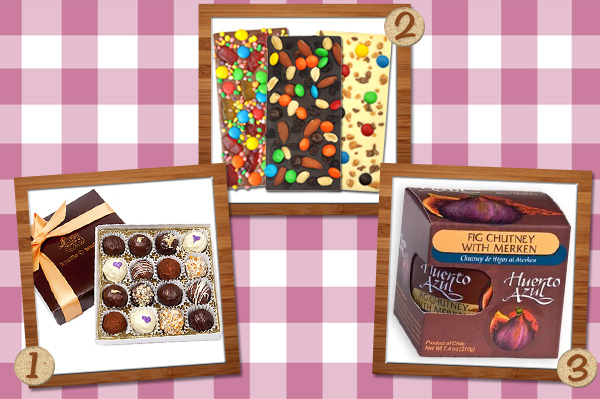 Mother's Day gifts: Food Finds
Truffle Truffle
Give Mom a chocolate that will leave her speechless. The decadent truffles from Truffle Truffle are hand made from scratch by founder, owner and pastry chef Nicole Greene from all-natural, chemical- and preservative-free ingredients. Mom will love the "Best of" Collection, featuring 16 amazing truffles, including Chili Milk Chocolate, Blackberry Thyme White Chocolate, Espress Dark Chocolate, and more.
TruffleTruffle.com;  $32
Chocomize
As if Mom needs an excuse to eat chocolate, Chocomize will give her dozens of reasons to nibble her favorite treat. Chocomize is the first make-your-own-chocolate-bar company in the US, giving chocolate-lovers free rein to create their idyllic chocolate bars. You choose from dark, milk, or white Belgian chocolate as a base and then add up to five ingredients from a selection of over 100 drool-worthy ingredients. Add-ins range from the common nuts, fruit, marshmallow, and even teddy bear cookies to the not-so-common 23 karat gold flakes, rose petals, and even bacon!
Chocomize.com; 3.5-ounce bars start at $4
Huerto Azul Fig Chutney with Merken
Sometimes the smallest addition to a meal can make an extraordinary difference. This sweet, smoky, spicy chutney is made with fresh figs and a touch of merken, a Chilean spice made with smoky chili peppers and coriander seeds. Excellent as a spread to add to a cheese plate, your mom will also love warming the chutney up and serving it as a sauce for chicken or salmon. Heurto Azul has other delectable chutneys to choose from, if you want to get your mom a variety of these gourmet spreads.
Tienda.com; $16
More Mother's Day ideas
Mother's Day barbecue recipes
No-bake desserts for Mom
Mother's Day party ideas