Easter Decor
Done Right
Easter is right around the corner -- April 24th, for you slackers out there. So if you haven't decorated for the occasion yet, you'd better get hopping! Here are some easy tips on decorating for Easter.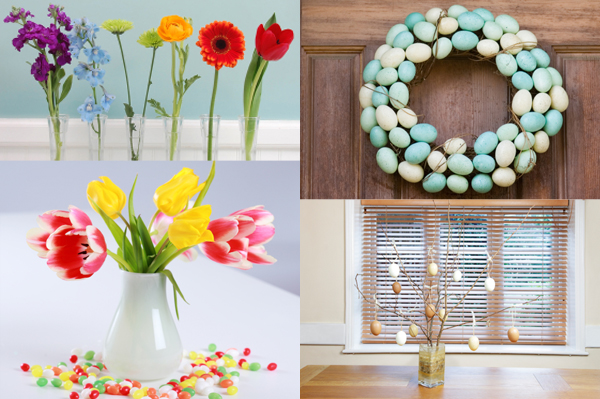 Display an Easter wreath.
According to Aimee Beatty, Pier 1 Imports' in-house stylist, "Easter wreaths are great for welcoming visitors, but they're not only for displaying on the front door. They can also be hung in front of mirrors in the home or displayed flat on the table with a hurricane -- or three -- in the middle. Then fill the hurricanes with eggs."
Don't miss these fun and simple door wreaths for every season of the year. >>
Make coming home a warm welcome.
Beatty suggests lining the driveway with seasonal garden stakes. "[These make] driving up to anyone's home an Easter extravaganza. And for the avid gardener, these are great decorations to add to the garden," she says.

Display your kids' Easter artwork.
You know all those Easter and springtime "masterpieces" that your kids have worked on in school for the past few weeks? Instead of letting them collect dust in your "to organize" file, show them off as part of your Easter décor. Your children will be so proud that their art is put up for display, and this gives their pieces a good home until you can figure out what to do with them when the season ends. (Really, doesn't every mom suffer guilt from tossing even one piece of her child's precious handiwork?)
Bring the season indoors.
Around Eastertime, the world is in bloom. Capture a bit of it and bring it inside by displaying fresh springtime flowers in creative vessels all over your home. For example, stick a single long-stemmed blossom such as a tulip or daisy in an empty wine bottle. (There. We just gave you a perfectly good reason to empty a wine bottle.) Or gather a big bunch of baby's breath to put in a mason jar tied with a pastel ribbon.
Get inspired with these spring flower arrangement ideas. >>
Be kind to the Earth.
In light of the fact that Easter is just two days after Earth Day, go green with your Easter decorations. In lieu of buying mass-produced Easter decorations, be creative and use materials around the house to create your own seasonal decor. Browse the Internet, catalogs and stores for inspiration, then craft your own original Easter décor with recycled materials.
Discover how to teach your kids about Earth Day. >>
Make the most of the season.
Finally, remember that Easter is one day, but springtime is here for a while. Subtly tailor your Easter décor so that it can last all season long. Instead of displaying a giant inflatable Easter bunny on your front lawn, set some bright spring flowers in beautiful terra cotta pots by your front door.
More spring party ideas
5 Spring party themes for kids
Spring table ideas
Simple spring cocktails & mocktails