Healthy You
Healthy Family
Make your resolution one that benefits the entire family by vowing to raise a healthier family in 2011. From your family's physical health to their mental health and well-being, find out how to make this year your best ever.
(page 2 of 2)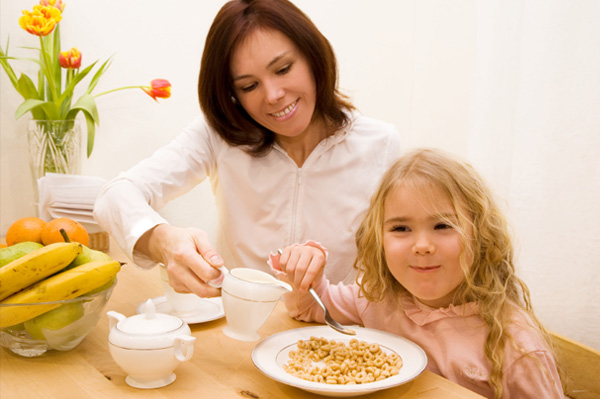 Don't talk bad about yourself
"The most important key to raising kids with healthy self-esteem and body image is for parents to heal their own self-esteem and body images so that they can demonstrate good behavior for their kids," says Leah Carey, author of Transforming Your Body Image.
"There are many parents who tell their daughter that she's beautiful, but then speak about their own bodies in derogatory ways and demonstrate poor self-care behaviors. Children will listen to our words, but they will emulate our behavior."

Make breakfast a priority
"Families can start their New Year off right by making over their morning routine," says Dr. Michele Borba, parenting expert and author of The Big Book of Parenting Solutions. "Instead of rushing out the door, make a New Year's resolution to talk to your kids as you pour a glass of nutrient-rich 100 percent orange juice together while you pack a healthy breakfast to go," she says. Dr. Borba also suggests keeping breakfast necessities, such bowls and cereal or breakfast bars, in a spot where kids can easily get them.
Share the headlines
Expose your child to current news around the world by reading newspaper articles with your kids. "Reading newspaper stories out loud to each other will give you the chance to engage with your children, work on their reading skills and teach them about current issues for the New Year and beyond," says Dr. Borba. "Focusing on positive stories also will help everyone head out of the door with the right mindset to take on the day. "
Call a tech time-out
"Set aside a specified time each day for your kids to put down the electronic games, turn off the TV and computer, and play outside," says Candi Wingate, President of Care4Hire. She suggests playing tried-and-true favorites, such as hide and seek, leap frog, 'Simon says,' Red Rover, kickball, tag, jumping rope and a million other generations-old childhood games that involve enjoying activity and fresh air. "If electronic games are a must in your household, a Wii is an electronic game that encourages physical activity."
Dust off your bike
Fitness expert Catherine Holecko suggests looking for opportunities for the family to bike instead of always driving, such as going to school or even the grocery store. "A biketrailer (you can find ones on eBay or Craigslist) lets you haul small children or big bags of groceries with ease. Or if you have a child who is big enough to ride but can't go too far, check out a trail-a-bike, which makes an adult bike into a tandem with a low-to-the-ground back seat for kids," she suggests.
More tips for a healthy family