Inspired Entertaining
Holiday hosting doesn't have to mean a sit-down dinner and preparing a three course meal. Trust us, your guests will get enough of that at every other Christmas event they attend. Spice up your next seasonal soiree with our inspired entertaining ideas.
(page 2 of 2)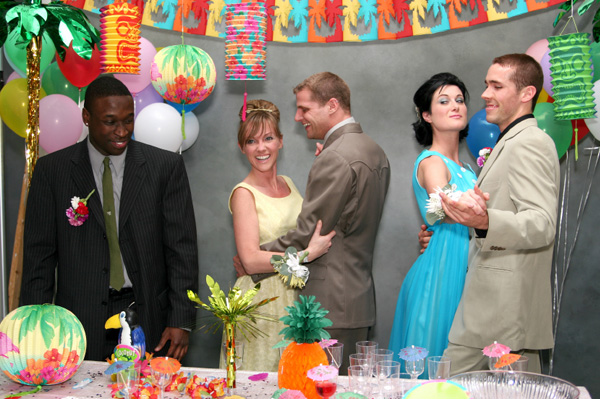 Holiday tree-trimming party
As long as you are in possession of an unadorned Christmas tree, you're half-way to hosting a fabulous tree-trimming party. Encourage guests to bring an ornament to hang on the tree and have your own ornaments ready to be hung when guests arrive. Serve holiday-inspired goodies like gingerbread, Christmas punch and fruitcake for an afternoon of festive fun.
Holiday open house
An open house can be a good option if you have a lot of people to see over the holidays and limited amount of time. You can keep things manageable by giving guests a four- to five-hour window to drop by. Offer simple snacks such as crackers and cheese, fruit skewers, and chips and dip, and have juice and sparkling water on hand, along with a small selection of wine.
Holiday gift exchange party
Buying gifts for all of your friends and family members can be daunting both in terms of time and budget. Instead of breaking the bank, have all of your guests bring one gift. It should be wrapped and something gender neutral. Get guests to put their names in a hat and every time you draw a name, that person gets to choose and open a gift. As the party progresses, guests can choose to keep their gifts or trade for someone else's.
Fancy holiday dress party
This is your chance to wear the cocktail dress that's been hanging in your closet with the tags still attached. Tell everyone to come in formal dress, serve champagne and canapés, and cover tables with white tablecloths and a sprinkling of gold and silver glitter. Set up a photo station where guests can take photos of each other in their evening wear.
Holiday theme party
To get everyone into the holiday spirit, have guests come dressed according to a theme you've chosen ahead of time. You can either stick with a Christmas angle (Santa hats, elf-inspired attire) or opt for something less seasonal like Mad Men or 1920's chic (think flappers and jazz musicians). Choose food and drinks to match your theme.
Holiday how-to
How to display holiday cards
Do you love the annual flurry of holiday greetings, but not the tumbling mess it creates on the mantel? This creative solution is a fun and easy way to show off your cards.
More holiday entertaining ideas
Holiday entertaining made easy
The dos and don'ts of holiday entertaining
Holiday entertaining planner and recipes