Summer Party Fun
The summer party season is upon us. Outdoor barbecues, beach picnics, garden weddings -- so much fun to be had! From Memorial Day through the 4th of July is the peak of summer party fun. Here's a look at some extraordinary summer party ideas.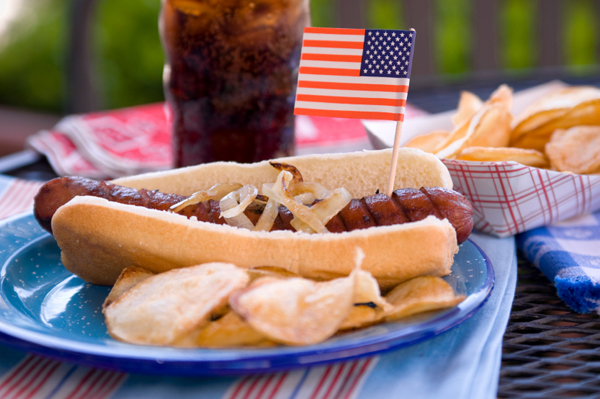 Honor the fallen soldiers
On Memorial Day, show your appreciation for those who have lost their lives while protecting our country. Teach your children about the meaning of the holiday by taking them a Memorial Day parade or service -- most major cities have parades and other commemorations. A national moment of remembrance takes place at 3 p.m. local time. Another Memorial Day tradition is to fly the American flag at half-staff until noon.
After the parade, head to your neighborhood park for a picnic. Use red, white and blue paper plates and plastic cups. Pack a picnic basket with sandwiches and drinks. And make a strawberry and blueberry fruit salad topped with whipped cream to keep with the red, white and blue theme.
Get into the patriotic mood
Whether your party is for Memorial Day, 4th of July or even Flag Day, get into the patriotic spirit with the right tunes. Here are just a few suggestions for your party playlist:
American Pie / Don McLean
American Without Tears / Elvis Costello
Born in the USA / Bruce Springsteen
Breakfast in America / Supertramp
Hail, Hail, the Gang's All Here / Fred Astaire
The Star-Spangled Banner / Francis Scott Key
Stars and Stripes Forever / John Philip Sousa
Light up your Independence Day party
Your 4th of July party will likely be an afternoon/evening affair outdoors, and fireworks aren't the only thing that should be lighting up the night. Decorate your trees, bushes and entryways with red, white and blue twinkling lights.
Before the sun sets and the fireworks begin, play outdoor games like flag football, Frisbee or tug-of-war.
Get red and blue glow sticks or glow-in-the dark jewelry for young kids. Add sparklers to your cake instead of candles. (Just be careful: They can be dangerous.)
Red paper lanterns and little American flags are suitable decorations for the holiday and are available at party stores, grocery markets and superstores.
If fireworks are legal in your neck of the woods, be sure to handle them safely. Read the directions carefully before lighting. Aim them away from people, homes and flammable materials. Have a fire extinguisher and buckets of water on hand for any mishaps. Only adults should handle fireworks.
Make 4th of July crafts
Kids love making crafts and decorations for summer parties. For your 4th of July get-together, have them make patriotic place settings with blue napkins and peppermint candies by doing the following:
Cut heavy paper or poster board into strips that are 1 inch wide and 7 inches long.
Use a gluestick to create a ring with each strip.
Attach wrapped peppermint hard candies all around the ring with double-sided tape.
Roll your utensils in blue napkins, then slip a ring around each napkin.
Your guests can take the candies home.
Display outdoor party flowers
Just because your party is outdoors doesn't mean you can't add a touch of elegance with flowers. Because outdoor parties are a little more casual than their indoor counterparts, everything doesn't need to be matchy-matchy, so use vases of varying heights and styles. If you don't have enough, head to the local dollar store to pick up a few more vases or other containers to mix and match.
In each vase, use a combination of red, white and blue flowers for Memorial Day and 4th of July events. Roses can be expensive, so red carnations might be a better option. Mix them with dark blue hydrangeas and white daisies or lilies.
Next up: Summer party recipes