Spread The Love
What would a holiday be without a craft? Since Valentine's Day is about spreading the love, why not have your child bring something to their class or make a decoration for the house that they can complete with you? Valentine's crafts for kids are a great way to spend time with your little ones while teaching them about giving to others. Here are two fun and adorable Valentine's crafts for kids to get both their hearts and yours filled with calorie-free love this Valentine's Day!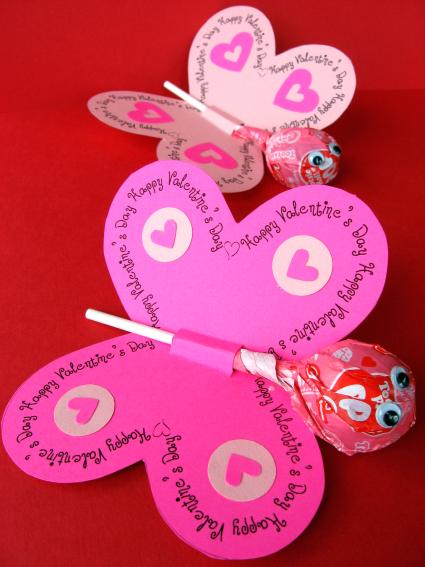 Butterfly Valentines
These lollipop butterflies make the perfect Valentine's craft for kids from SkipToMyLou.org. You can give them some personal flair with your color choices, glitter, and other drawings made just by your child. These make great favors and a different kind of Valentine's Day card that anyone is sure to love!
Materials
Printer
Colored card-stock
Wiggly eyes
Red/white/pink suckers
Tape
Scissors
Glitter/markers/crayons, if desired for decorating
Directions
Download Butterfly Valentine.
Print on colored card-stock. Pink and red are the best for this, but you can also use a variety of other colors if your child desires.
Cut out the butterfly and make slits for your sucker.
Add some decorations (cut out shapes of paper, stickers, glitter, etc.),
Insert sucker and then add some wiggly eyes to the top of the sucker.
Add a piece of tape to the back to keep the sucker securely in place.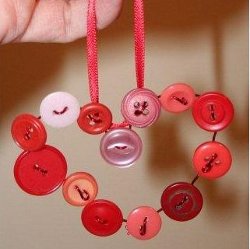 Button Heart Ornaments
This fun Valentine craft for kids comes from FaveCrafts.com and is a great way to get your child involved with different shapes, sizes, and colors -- not to mention you'll find a great use for all those orphaned buttons around the house! Enjoy making this Valentine's heart craft with your child.
Materials
Buttons with at least 2 holes (red, pink, white)
Colored Wire (the thinner the better, but make sure it's strong enough to hold shape)
Wire cutters
Ribbon
Directions
Cut about 12 inches of wire.
String the first button, leave about 1 inch of wire at the end for twisting the ends when you are done. Go through one hole until the button is in its final position, then string through the other hole. The button will not slide down the wire if you string it through both wires at the same time.
Repeat step 2 until you have strung about 12 buttons. You can use all one color, or alternate colors, depending on the look you want. This will give you about a 3 inch tall heart ornament.
Once you've strung all your buttons, bend into your heart shape. You can have your ends meet at the base of the heart or at the top, it's up to you.
Twist the two end wires together. If you have left over wire, you can swirl the ends at the bottom of the heart to make a fun design, or you can clip them and bend it under so it doesn't poke anything.
Take a piece of ribbon and tie a loop to the top of the heart for hanging.
More Valentine's crafts for kids
10 clever ideas for busy-as-hell moms
4 Handmade Valentine's kids can make
Make a Valentine's Day mailbox