Work It, Girl!
With the new year upon us, what better time to set your goals towards that fitter, firmer, healthier body that you've been wanting! With all the options out there, there's simply no excuse for boredom. SheKnows ranks the Top 10 workouts for the New Year to get you started!
(page 3 of 3)
Workout #4: Hula your way to a healthier you
Hula hooping is a whimsical but effective workout that has you swirling a weighted hoop around your hips, targeting your obliques and the hard-to-tone lower ab area. Check to see if your gym or community center is one of the many facilities offering hooping classes or simply get your hoop and hula yourself slim.
Workout #3: Do it DVD-style
You can't get more time-efficient than home fitness DVDs, and better yet - they are cheaper than a gym membership! SheKnows Fitness experts rated our Top 10 Fitness DVDs here so you'd know exactly where to start. Set a daily alarm on your cell phone to remind you to pop in that DVD, and make a commitment to sqeeze them into your daily schedule.
Workout #2: Striptease your way to slim
Pole dancing is a workout focused on sliding up and down a metal pole to build strength, balance, and flexibility. You'll also burn up to 400 calories an hour and work your abs, legs and butt doing moves like backbends, kicks and slides. make sure you keep your coworkers unprivy to your new moves.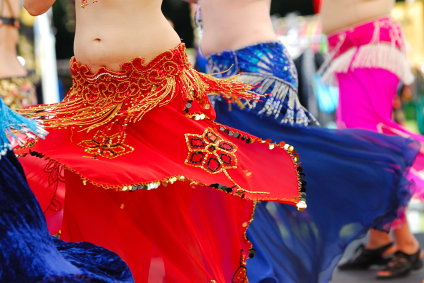 Workout #1: Burn it off with belly dancing
Belly dancing is an ancient dance form that's popping up as a workout alternative in gyms and dance studios around the country. A typical hour-long class can burn 300 calories and works your core muscles as well as hundreds of other muscles. You'll also perfect your breathing techniques while you belly dance your way fit.

Here are a few more workouts for your New Year's fitness