Hang Out With Your Gal Pals
You and your girls have been through thick and thin together - celebrating all life's triumphs and consoling each other through the rough spots. For your birthday, celebrate your friendships with your favorite gal pals with girls' night out.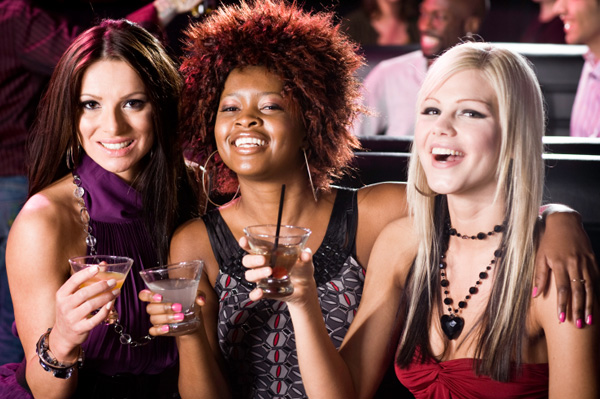 Whether you are single or married, you probably have a group of close girlfriends with whom you share all your joys and secrets. On your birthday, celebrate with a special girls' night out party. Whether you are looking to relax and unwind, or want to tear up the town, you can find a birthday party theme to fit your style.
Spa night birthday party
Find a local spa that is open late and ask if they can accommodate a private party. Your best bet may be a spa in a hotel. Spa night parties are ideal for groups of six to eight. Print your own invitations featuring relaxing spa images, and invite your friends well in advance. Arrange for massages, facials, manicures and whatever other treatments interest your guests. Many spas serve wine or champagne, and allow you to arrange for catering. Keep the food simple and light -- finger sandwiches or appetizers.
Comedy club birthday party
Your friends are always good for a laugh. For a birthday party, head to your local comedy club or see if any famous comedians will be performing close to the time of the birthday. Meet your guests at a nearby restaurant before the show for dinner, then head to the venue for a night of laughter and good times. Rent a limo to avoi issues with drinking and driving.
Sleepover birthday party
Girls' night out can actually be girls' night in. You are never too old for a good old-fashioned slumber party. Break out the sleeping bags and air mattresses, and no boys allowed. Everyone should arrive to the party around dinnertime, dressed in their PJs. It will be like junior high all over again as you play games, eat pizza and do each other's nails. Another terrific idea for a sleepover birthday is to center it around a theme, such as Sex and the City. You can play the Sex and the City trivia game or watch Carrie, Miranda, Charlotte and Samantha, along with all the men who go in and out of their lives, on DVD.
Getaway birthday party
Instead of just girls' night out, make it girls' weekend out! Head to Las Vegas or Atlantic City for a weekend of gambling, shows and good fun for your girls. Book a large suite for all of you to share or a block of rooms on the same floor of the hotel. Vegas is always a party, and there couldn't be a better place to celebrate your birthday with your girlfriends.