Friends And Flicks
Celebrate a birthday or an occasion to just hang out with friends by hosting a dinner and a movie party. These parties are relaxing, casual and great time for everyone.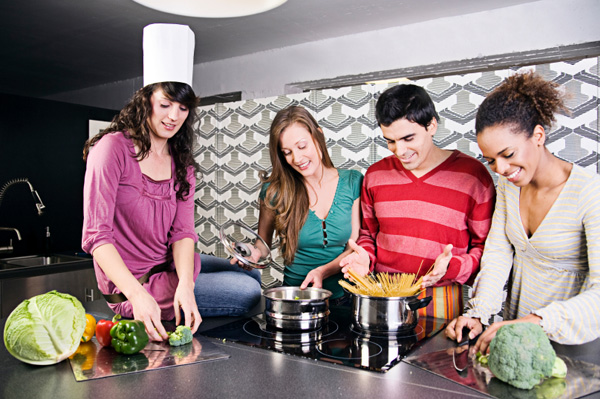 A dinner and a movie party is a fun way to celebrate your birthday or just spend time with friends. These types of parties are particularly enjoyable when they are centered around a theme. Here are some great tips for hosting a dinner and a movie party.
Making your guest list
Generally, the number of guests for your dinner and a movie party will depend on how many people can comfortably watch your TV. Most of the time, these types of parties are limited to six to 12 people, except if you have a large media room in your home. Unless you are picking a kids movie, it's best to leave children off your guest list.
Selecting a theme
For a dinner and a movie party, you can pick foods based on the movie, or select your movie based on the food. For example, you could throw an Italian party, which could put pizza and pasta on the menu, along with The Godfather in your DVD player. Instead, you could pick your favorite movie -- let's say, Monty Python and the Holy Grail. And then select a menu to accompany it.

Food-movie pairings to consider:
Italian food -- Any mafia flick
Greek food - My Big Fat Greek Wedding
Chinese food - Big Trouble in Little China
Chocolate - Willy Wonka & the Chocolate Factory
Preparing the menu
For a dinner and a movie party, you want to keep your menu relatively simple. One main dish, a salad and a dessert is enough. You can serve a sit down dinner and the watch the movie afterward, or if you prefer, you can put out trays of appetizers and finger foods to be eaten during the movie. Be sure that you have plenty of popcorn and other munchies on hand for your guests to snack on.
Keep it casual
Everyone should dress casual and comfortable. Most likely you are going to be sitting on couch or floor throughout the evening. Have alcoholic and non-alcoholic beverages available. You can stick to beer and wine, or serve a signature drink that goes along with your movie theme. If your guests are drinking, be sure to provide a designated driver or taxi service.
Don't forget the cake
If the party is for your birthday or someone else's, don't forget about the cake. However, instead of a sheet cake, serve cupcakes instead. They are easy to make, easy to eat and everybody loves a good cupcake.