Allergy-Friendly And Yummy Too!
Make any party a smash by including these fun gluten-free recipes to the menu!
(page 4 of 6)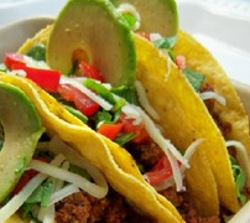 Gluten-free taco recipe
Ingredients:
6 gluten free hard taco shells
1 pound lean ground beef
1 tablespoon olive oil
2 tablespoons gluten free taco seasoning
3 tablespoons water
1/2 cup finely chopped red onions
1 cup shredded mozzarella cheese
Preparation:

Place taco shells on a baking tray and warm in a 350 degree oven for 5 minutes. Brown ground beef in olive oil until completely cooked. On low heat, stir in 2 tablespoons of gluten free taco seasonings and 3 tablespoons of water. Simmer for about 3 minutes, stirring occasionally. Fill each taco shell with a layer of seasoned ground beef, chopped onion, shredded spinach and top with shredded cheese.

For a delicious snack or dessert, don't miss out on the gluten-free brownies on the next page ...