Allergy-Friendly And Yummy Too!
Make any party a smash by including these fun gluten-free recipes to the menu!
(page 3 of 6)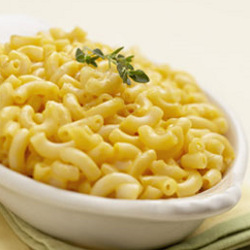 Gluten-free macaroni and cheese recipe
Ingredients:
7 tablespoons unsalted butter
4 tablespoons amaranth flour
2 cups milk OR dairy substitute (I use light organic coconut milk)
1 teaspoon salt OR GF herbal salt
1/4teaspoon fresh ground pepper, or to taste
1 teaspoon GF onion powder
1/2 teaspoon GF garlic powder (not garlic salt)
Pinch of GF cayenne (optional)
8 ounces freshly grated cheddar cheese (about 2 cups)
4 ounces freshly grated gruyere OR Swiss cheese (about 1 cup)
4 ounces freshly grated fontina OR provolone OR havarti cheese (about 1 cup)
4 ounces freshly grated parmesan cheese (about 1 cup)
16 ounces, al dente cooked GF macaroni noodles
Preparation:

Preheat oven to 350 degrees. Put 2 tablespoons of unsalted butter in a 3-quart baking dish. Set aside. Fill a large stockpot half full with water. Cover and bring water to boil over high heat. Add one pound of gluten-free macaroni (elbow) noodles and a pinch of salt and return water to a boil.

Cook according to package directions, until al dente (beginning to soften but still somewhat firm to the bite). While pasta is cooking shred cheeses and make the cheese sauce. Melt 4 tablespoons of butter in a medium saucepan over low heat. Whisk in 4 tablespoons of amaranth and cook for 2 minutes, whisking constantly. Slowly whisk in milk or dairy free substitute.

Increase heat to medium and whisk until mixture thickens. Remove from heat. Add salt, pepper, garlic powder, onion powder, cayenne (optional), 1 cup shredded cheddar cheese, 1/2 cup Parmesan and all of the Swiss and Fontina cheese. Stir until cheeses melt and mixture is smooth and creamy.

Put the baking dish with butter in the preheated oven and leave just until butter melts. Remove and coat bottom and sides of the dish with butter using a pastry brush. Drain, rinse and pat dry cooked pasta. Pour half of the pasta in the baking dish and cover with about 1/2 of the cheese sauce. Distribute remaining pasta on top and evenly cover with remaining cheese sauce. Lightly salt and pepper and bake for 45 minutes or until top is golden and bubbling. Cool for at least 5 minutes before serving.

Also try the gluten-free taco recipe on the next page ...