Allergy-Friendly And Yummy Too!
Make any party a smash by including these fun gluten-free recipes to the menu!
(page 2 of 6)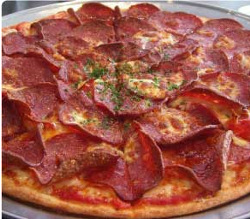 Gluten-free pepperoni pizza recipe
Ingredients:
1 recipe pre-baked gluten-free pizza crust
6 tablespoons olive oil
1 can Muir Glen organic pizza sauce OR your favorite GF pizza sauce
2 teaspoons gluten-free Italian blend herbs OR dried oregano
4 6 ounces fresh grated mozzarella cheese
1 package gluten-free turkey pepperoni
Preparation:

Preheat oven to 450 degrees F. If you have a pizza stone place it in oven to preheat. If not, use a baking sheet or round pizza pan. Brush each pizza crust with olive oil. Evenly spoon pizza sauce on pizza. Sprinkle cheese and herbs on pizza. Evenly space turkey pepperoni (as much or little as you like) and drizzle 1/2 teaspoon olive oil evenly over all. Bake in preheated oven for about 12 minutes or until cheese is bubbly and crust is golden brown.

Next up, yummy gluten-free mac and cheese ...