Here Today But Not Gone Tomorrow
The holidays are all about getting the whole family together to share a wonderful meal and some laughter -- and to create new memories together. Preserving these Christmas memories allows you to relive your past celebrations whenever you want, and it keeps you looking forward to creating more. So how will you preserve this year's Christmas memories? Here are a few ideas.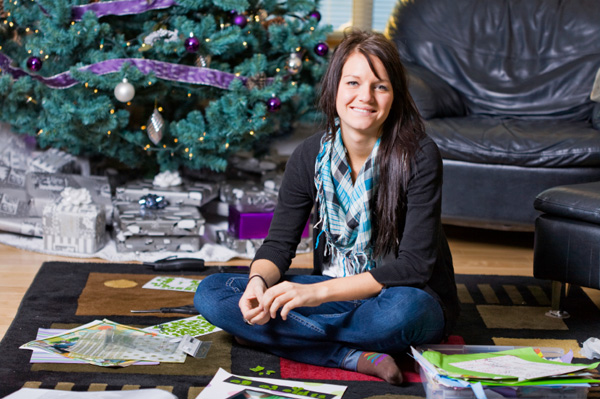 Choose a photographer
Arm a lucky family member with a camera and have him click away throughout Christmas Day. Choose someone who will stay dedicated to the task, or make it a fun game for the kids in the family to see who can get the most or funniest pictures. Later, put the pictures on flash drives or in a custom photo book for the entire family; you can create these online.
Make it a game
If your family likes to play games together, take photos of your Christmas activities and create games from them to play throughout the years. For example, make a puzzle or a personalized deck of cards from Christmas photos.
Create a scrapbook or custom photo album
Ann Veeh, retired mother of two, created a Christmas scrapbook to capture the Christmas memories of the last 25 years. "I took photos, the family Christmas letters, letters to Santa and our yearly Christmas photos and created a page for every year," she says. Don't have a creative bone in your body? That's okay -- you can create albums online by loading your images. Use the site's standard design or customize it with borders and frames.
Unique scrapbook ideas
Kim Mitchell, mother of two boys, uses family traditions to teach her boys to be thankful for everything they have. "During the holidays, the kids in the family cut out leaf shapes in the morning, and we scatter them on the dinner table before dinner," she says. "During the morning and before Christmas dinner, as folks are in and out of the dining room, they take a leaf and write down what they are thankful for and drop it into a bowl. Then, during dessert, we go around the table and take turns picking out a leaf and reading what was written on it." Keep these thoughts year after year by creating a wreath or wall hanging to which you can add each year.
Save the date
Remind family members of upcoming holidays with a custom photo calendar. Each month, your family will be reminded of family traditions and the laughter that the holidays bring. Include pictures of the funny outtake moments to keep the laughs going.