Homemade Gifts For Dad
Dad is a very special person in a child's life -- that's why there's a whole day dedicated to Dads everywhere! A thoughtful gift can be found in any kind of craft. Check out these fun ideas (good for kids of all ages) that will keep the kids entertained and that Dad will love.
(page 3 of 3)
bendaroo bike
Dads love teaching their kids new things -- such as riding a bike. With Bendaroos, your kids can commemorate the time when Dad got them up and rolling on two wheels.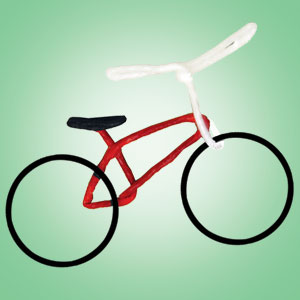 Materials
3 black Bendaroos
1 white Bendaroo
1 red Bendaroo
Directions
Bend one black Bendaroo into a loop. Overlap with the edges by about 1/2 inch, then twist to connect. Repeat with other black Bendaroo to make two tires.
Fold one black Bendaroo in half, and then in half again. Press together and shape it so it's narrower at one end.
Fold the red Bendaroo as shown. Pinch the ends into points, and press together to stick.
Take a white Bendaroo and make a loop about 1-1/2 inches from one end. Then loop the other end around and connect to the middle. Press to stick.
Place all the pieces together. Wrap the bottom of the handlebars around the front wheel and press to connect. Flatten the handle bars.