Homemade Gifts For Dad
Dad is a very special person in a child's life -- that's why there's a whole day dedicated to Dads everywhere! A thoughtful gift can be found in any kind of craft. Check out these fun ideas (good for kids of all ages) that will keep the kids entertained and that Dad will love.
(page 2 of 3)
Mrs. Butterworth birdfeeder
Perhaps the kids can make something together with Dad. Here's a craft that offers the perfect opportunity! This birdfeeder can hang in the yard throughout the year and is made out of a typical household product: A Mrs. Butterworth's syrup container. Deliciously useful!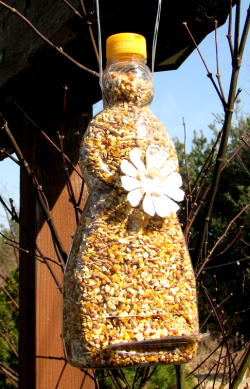 Materials
Large Mrs. Butterworth bottle
Heavy-duty craft knife
Wire
Optional: Drill or dremel tool
Directions
Remove label and clean bottle.
Using the craft knife, cut a horizontal incision the entire length of where the label was, about 1 inch from the bottom. It is easier if you adhere a piece of masking tape as a guide.
Cut two parallel, downward cuts toward the base, approximately 1/2 inch long, from the ends of each side of your horizontal line. It should look somewhat like a table with two legs.
Bend plastic down to form ledge.
Using dremel tool or drill, drill two holes on either side of the head, right along the seam line where the shoulders start.
Thread wire through holes and secure.
Fill with birdseed and hang.
On the next page, use Bendaroos to make a bicycle craft for Dad.