Crafts For The Big Kids
The older kids (nine to 12 years old) in mom's life may want to present a more mature craft to their moms this year than their younger counterparts. Through creativity and careful crafting, these fun Mother's Day crafts will leave mom realizing that her babies are growing up. Of course, a little extra supervision will help these ambitious kids create a long-lasting memory safely and neatly.
(page 2 of 2)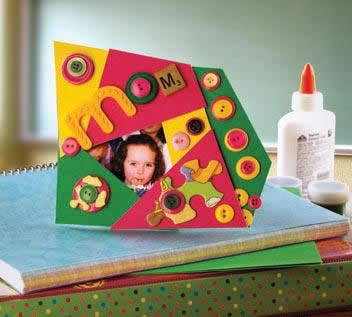 Geometric Picture Frames
Pictures are the perfect way to showcase a memory. Michaels, the craft store, suggests making a geometric picture frame this Mother's Day with a few objects. Each frame comes out unique, so even if Mom gets one from each of her children, she'll be able to showcase them all on the mantel proudly!
What you need:
Colorful matboard scraps
Paper cutter (for adult use only)
Buttons of choice
Cardboard puzzle pieces
Craft magnets
Low-temp glue gun and glue
Photograph of choice
Directions:
Place the cut matboard pieces in an arrangement that will make an interesting frame. The picture opening can be an unusual size. The picture will be cut to fit inside the small frame.
Hot-glue the arranged matboard pieces together.
Arrange the buttons, puzzle pieces and other objects in a pleasing way before gluing the pieces to the matboard frame.
Hot-glue the objects to the frame.
Hot-glue two to four round magnets to the back.