Treat Mom
With A Delicious Homemade Meal
If you are leery about letting your kids loose to make you a Mother's Day breakfast in bed, let them help you with lunch or dinner. Assign them age-appropriate tasks, even simply setting the table. Invite your mom, grandma and other special ladies in your life to a special meal made with love. The following Mother's Day recipes, inspired by spring, will leave every mom at your gathering feeling deliciously appreciated.
(page 2 of 2)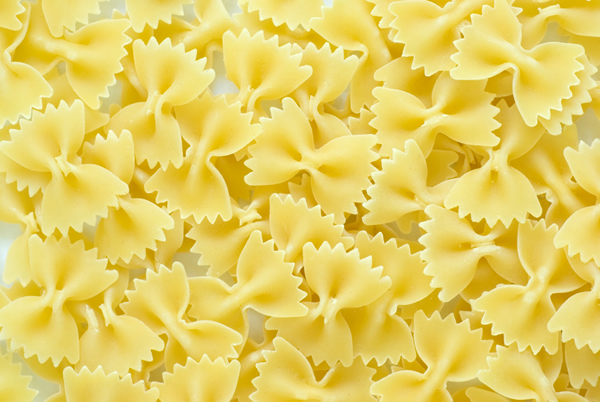 Pasta with Mint and Peas in Garlic Almond Sauce
Serves 8
The fresh flavors of spring — peas, mint and basil — make this simple pasta dish taste delectably complex. Use frozen peas if fresh peas are unavailable.
Ingredients:
1 cup whole almonds
3 cloves of garlic, crushed
Pinch of salt or more to taste
1/2 cup light whipping cream
1 pound bowtie pasta
2 cups freshly shelled peas
2 tablespoons extra virgin olive oil
2 tablespoons unsalted butter, divided
Freshly ground black pepper to taste
1/2 cup freshly shaved Parmesan
1/4 cup fresh basil leaves, tightly rolled and cut crosswise
1/4 cup fresh mint leaves, torn
Chopped toasted almonds for garnish
Directions:
1. In a food processor, puree almonds, garlic, salt and cream. Set aside. Place pasta in a pot of boiling salted water and cook until almost al dente. Drain in a colander and reserve pasta-cooking water. Set aside.
2. In a large skillet over medium heat, heat oil and butter until butter melts. Add almond mixture and bring to a simmer, stirring continually until heated through and slightly thickened.
3. Add 2 cups of the pasta water and season with freshly ground black pepper. Bring to a simmer and cook, stirring constantly until heated through and slightly thickened. Add pasta and peas, and toss to coat. Cook, stirring occasionally, for 2 to 3 minutes or until peas are hot and pasta is tender.
4. Stir in Parmesan, basil and mint, and remove from heat. To serve, divide pasta among eight bowls and garnish with toasted almonds and extra Parmesan, if desired.
Vanilla Ice Cream with Cocoa Cake Crumble
Serves 8
For ladies watching their waistlines, this Mother's Day dessert is sure to please. The cocoa cake is lightened up by replacing oil or butter with applesauce and dried plums, which add rich moistness without all the calories. Crumbling the cake on top of reduced-fat vanilla ice cream gives dinner a sweet guilt-free finale.
Ingredients:
1 cup finely chopped dried plums
1/2 cup brewed espresso
1/3 cup cocoa powder
1/2 cup all purpose flour
1 teaspoon baking powder
Pinch of salt
1/2 cup firmly packed brown sugar
1/4 cup applesauce
1 egg
1 teaspoon pure vanilla extract
Confectioners' sugar for dusting
Reduced-fat vanilla ice cream
Directions:
1. Preheat oven to 350 degrees F. Grease and lightly flour a 9-inch square baking dish. Combine dried plums and espresso in a large bowl and set aside. In a medium-sized bowl, whisk together cocoa, flour, baking powder and salt.
2. Add sugar, applesauce, egg and vanilla extract to dried plum mixture, stirring to combine. Add flour mixture, and stir until just combined. Pour into baking dish and bake 20 minutes, or until a toothpick inserted in the center comes out clean.
3. Let cake cool on a wire rack for at least 30 minutes. Fill eight dessert bowls with a scoop each of vanilla ice cream. Cut cake into eight pieces and crumble on top of ice cream. Serve immediately.
A few more of our favorite Mother's Day recipes
Mother's Day desserts
Mother's Day brunch recipes
Simple Mother's Day breakfast in bed