Everything For Easter Dinner
Easter is the time when many celebrate with their family and friends. If you are hosting an Easter dinner, for your immediate family or a large group, plan your menu, table decorations and go shopping ahead of time. These tips for planning an Easter dinner will help things go smoothly.
(page 2 of 2)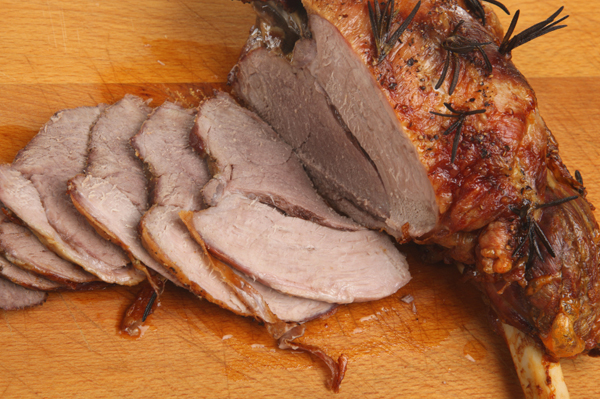 Roast Leg of Lamb
6lb/2.7kg leg of lamb
1 in fresh chopped ginger
2 bulbs garlic, chopped
Bunch of fresh rosemary
Glass of dry white wine
Olive oil
Salt and pepper to taste
For the gravy:
1 teaspoon butter
1 tablespoon flour
1 cup of lamb or vegetable stock
Small glass of ginger wine
Pre-heat oven to 180C /350F/Gas 4. Sprinkle the chopped garlic in a roasting tin. Place the lamb joint on top. Brush a little oil over the lamb and season with salt and pepper. Make a few cuts in the skin of the lamb and put the chopped ginger and rosemary inside the cuts. Add the wine. Cover loosely with tin foil. Cook for around 20 minutes per 1lb plus another 20 minutes. Place the cooked lamb on a warm serving dish, cover with foil and allow to stand for about 15 minutes.
For the gravy:
Put your roasting tin on the stove at a low heat. Add the butter, and mix in the flour. Add the ginger wine, stirring continuously. Add stock to get the right consistency.
Serve with roast potatoes and glazed carrots or other seasonal fresh vegetables.
Lemony Angel Torte
(serves 12)
1 Tablespoon plain gelatine
1/4 cup cold water
6 eggs, separated
1 1/2 cups sugar, divided
3/4 cup lemon juice
1 1/2 teaspoon grated lemon rind
1 large angel food cake (made from a box mix or store bought)
1 cup whipping cream
Soften gelatine in cold water. Set aside.
In top of double boiler, combine eggs yolks, 3/4 cup sugar, juice and rind. Cook over hot water until mixture coats a spoon. Remove from heat. Add gelatine and stir to melt. Allow time to cool.
Beat egg whites until frothy. Gradually add remaining 3/4 cup sugar, beating until stiff. Fold into cooled custard. Tear cake into pieces. Arrange a layer in bottom of oiled spring form pan and frost with whipped cream. To serve, remove from pan and cut into wedges. May be topped with fresh berries.
Strawberry Rhubarb Crisp
(serves 12)
Topping:
1 1/2 cups brown sugar
1 1/2 cups whole wheat flour
1 1/4 cups dry quick-cooking oatmeal
1 tablespoon ground cinnamon
1/2 teaspoon salt
3/4 cup butter
Filling:
4 cups rhubarb, cut into 1/2 inch pieces
4 cups sliced strawberries
3/4 cup sugar
3 tablespoons quick-cooking tapioca
1/4 teaspoon salt
Preheat oven to 375.
Topping: Combine dry ingredients. Cut in butter until crumbly and set aside.
Filling: Spray 9 x 13 pan with canola cooking spray. Toss rhubarb, strawberries, sugar and tapioca together. Turn into prepared pan. Spread on topping. Bake for 30-40 minutes. Serve warm or at room temperature. Top with vanilla ice cream if desired.