Everything
Easter
Skipping the Easter dinner thing this year and want to do brunch? For a no-fuss Easter brunch that your friends and family will love, try these Easter entertaining tips, games, brunch menu and accompanying Easter brunch recipes.
(page 2 of 3)
Easter Brunch Menu
Almond-orange-apricot crescent rolls
Scrambled eggs with avocado
Herb-roasted potatoes
Mini frittatas
Spiked Iced cappuccino
Almond-Orange-Apricot Crescent Rolls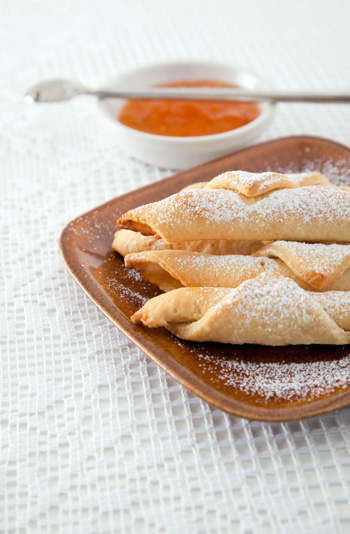 Cook time: 15 minutes
Makes 8 rolls
Ingredients
1 package store bought crescent roll dough (recommended: Pillsbury brand)
1/4 cup apricot preserves or all fruit spread
1/4 cup orange marmalade
1 egg
Splash of water
1 tablespoon sesame seeds
1/4 cup sliced almonds, 2-ounce sack from baking aisle
Directions
Preheat oven to package directions and roll out dough on a nonstick cookie sheet. Cut and separate dough into perforated triangles.
Combine the apricot jam or fruit spread and the orange marmalade in a small bowl.
Place bowl in microwave and cook on HIGH 15 seconds to loosen the preserves.
Beat egg with water to thin it out a little for an egg wash. Use the back of a teaspoon to spread a thin layer of apricot-orange jam across each piece of dough.
Roll crescents up, brush with a little egg wash and coat with sesame seeds and almonds.
Bake to package directions until deep golden in color. Serve warm.
Scrambled eggs with avocado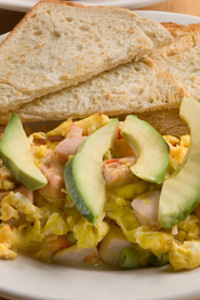 Cook time: 10 minutes
Makes 6 servings
Ingredients
12 eggs
1/4 cup heavy cream
3 tablespoons unsalted butter
Sea salt and freshly ground black pepper
3 avocados, peeled, pitted and sliced
Chopped fresh chives, for garnish
Directions
Crack the eggs into a bowl.
Add the cream and whisk until the eggs look foamy and light.
Heat a 10-inch non-stick skillet over medium heat.
Melt the butter until it foams, then turn the heat down to low and slowly pour in the eggs.
Using a heat resistant rubber spatula, slowly stir the eggs from the outside of the pan to the center. Once the eggs begin to set, stirring slowly will create large, cloud-like curds.
This sounds easy but perfect scrambled eggs that are soft and custard-like with no brown color are a sign of a really good cook. This process takes about 10 minutes.
Season the eggs with a few cranks of black pepper and good salt, like fleur de sel. Serve with a few slices of avocado and chopped fresh chives.
Up next: Herb-roasted potatoes, mini frittatas & spiked iced cappuccino recipes! >>